Paladino Gets Cuomo Back
Remember last week, Cuomo trolled Paladino by using a picture of Paladino's snowbound home to raise money for local charities?
It was, on its face, harmless – no one was attacking or criticizing Paladino, and not all that many people realized it was his house.
So, Paladino sent an email around, entitled "This Westchester House", featuring a picture – poached from the New York Times – of Andrew Cuomo's Mount Kisco manse: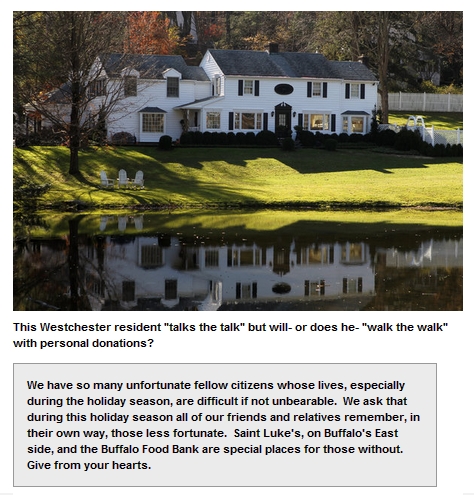 Of course, Paladino had to take a political swipe at Cuomo. It's Carl being Carl®.
UPDATE: Don't forget that Carl's candidate, Astorino, only released one year's worth of tax returns when he ran for governor this year.
Andrew Cuomo, by contrast, has released every single tax return he's filed going back to 1992.  To answer Carl's question re: "walk[ing] the walk",
Mr. Cuomo reported $16,000 in charitable contributions, more than 4% of his income. All went to HELP USA, the affordable housing nonprofit he founded.
Carl Paladino never released a single year's worth of tax returns when he ran in 2010.