Now What for the Wozniak Seat?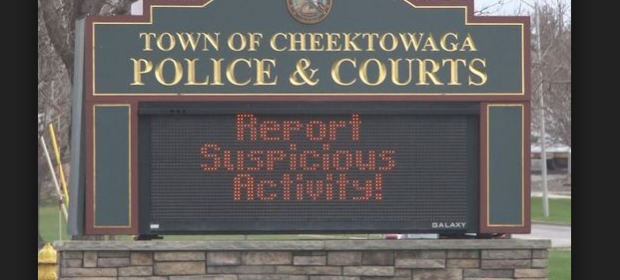 The Assembly's bipartisan Ethics and Guidance Commission censured Assemblywoman Angela Wozniak (C, 143) on Wednesday. Wozniak and her legislative aide Elias Farah had an inappropriate, adulterous affair, and when Farah tried to break it off, she harassed him, defamed him, and made it impossible for him to perform the functions of his job. 
Longtime listeners of the Howard Stern show know that "143" is a code for "I love you", which Sal Governale's wife texted to her "emotional friend". That storyline fed the Stern show for months, and made it into Sarah Silverman's lyrics for "Stop the Clock", performed at Stern's 60th birthday bash a few years ago. It would seem that New York's Assembly district 143 seat, covering Cheektowaga and Lancaster, has somehow become a magnet for inappropriate, pervy behavior. 
Dennis Gabryszak resigned from the state Assembly in January 2014 when a parade of former female staffers accused – some sued – him of inappropriate and sexist conduct. Those accusations became public in late 2013, and Albany "ethics" boards recenty fined him $100,000 for his behavior. 
While there's little question that Gabryszak's own creepy behavior cost him that seat, cognoscenti theorize that the Steve Pigeon axis carefully coordinated that Gabryszak takedown to help Tim Kennedy in his September 2014 primary rematch against Betty Jean Grant. With Gabryszak out, there was an open (D) seat up for grabs. Since there exists overlap of A-143 and SD-63 – notably in Cheektowaga – the nasty (D) Assembly brawl between Mark Mazurek and Camille Brandon worked nicely to help Kennedy decisively defeat Grant after an embarrassingly close call two years earlier. 
Registered member of the Conservative fusion Party Angela Wozniak succeeded Gabryszak. Her tenure has been largely unremarkable and uneventful, except for that time she went to a Lancaster school board meeting to demagogue against LGBT rights while quite clearly having little idea what she was talking about. 
Wozniak's win in a traditionally Democratic stronghold was pretty significant, seen as a huge get for ECGOP chair Nick Langworthy and Conservative fusion chair Ralph Lorigo. She was going to fight for the taxpayer. She was going to clean up Albany and "fight" the "status quo". She was going to advocate for term limits, fight corruption, and institute "the nation's toughest ethics plan". 
Being the second consecutive A-143 Assemblyman to be sanctioned for ethical violations arising out of sexual misconduct is pretty much a facile maintenance of the status quo. 
Wozniak's accuser, Elias Farah, is a Republican who recently ran for county legislature. There has been a flurry of hateful criticism thrown his way by Republican insiders, mostly because all of this must be embarrasing for a pol who ran on an anti-corruption platform.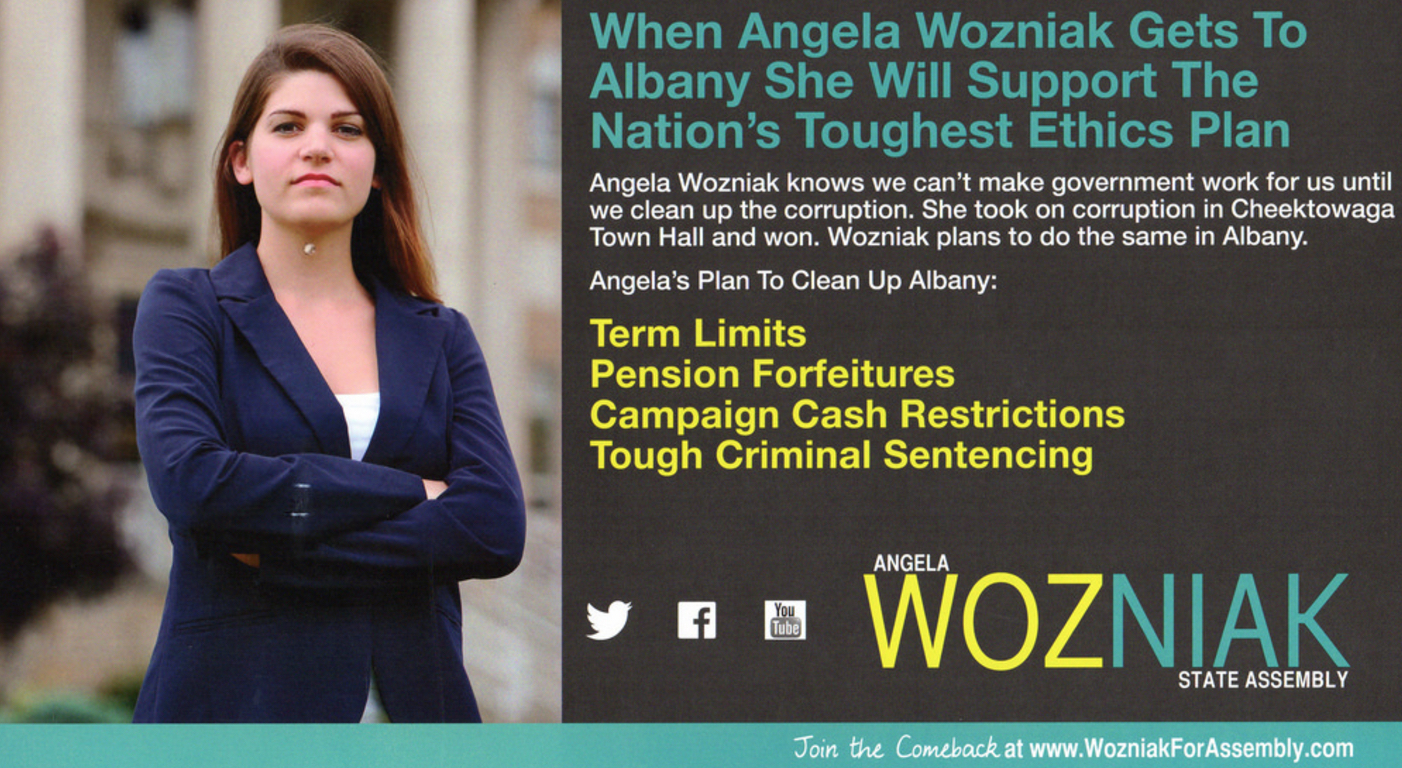 Reports indicate, and Assembly Speaker Carl Heastie's letter confirms that Wozniak, "entered a consensual sexual relationship with her director of legislation in June 2015. The staffer objected to and tried to stop the sexual nature of the relationship, which ended after Wozniak told her husband. The report found Wozniak banned the staffer from working in the district office or attending community meetings she was at." 
The report found Wozniak spoke negatively of the staffer to damage his job performance, and her counsel told reporters the name of the staffer and used the press to tarnish him further by saying she'd go after "anyone who maliciously defamed her." The report says inconsistencies between both parties made it hard to determine if this was quid pro quo sexual harassment by Wozniak.
Certainly any report on "ethics" coming from a contemporary Assembly-run corruption watchdog should be taken with a grain of salt, as there is a long history of the Assembly coddling and protecting harassers. In 2007, Republican Assemblyman Mike Cole was similarly censured for getting drunk at a party and sleeping on a female intern's apartment floor. While he insisted nothing happened, he lost the Republican nomination to Jane Corwin the following year. 
It's hard to see a path forward to Wozniak here. She promised the people of Cheektowaga that she would be different; that she would end the corruption and ethical lapses that led to her predecessor's downfall. Yet here she is, two years later, accused of sexual harassment. The sanctions against her include: 
That a letter of admonition be issued publicly to Assemblymember Wozniak by the Speaker on behalf of the Assembly, enumerating the findings of the Committee, and indicating that Assemblymember Wozniak's conduct violated the Assembly's Policy Prohibiting Harassment, Discrimination and Retaliation as it pertains to retaliation and is inconsistent with the standards of conduct to which members of the Assembly should be held;
That's pretty toothless, but damning nonetheless. 
That Assemblymember Wozniak is hereby directed to cease publicizing details of the investigation and to cease making disparaging statements against her former Director of Legislation, unless reasonably necessary to defend herself in the event of any claims brought against her in an administrative agency or a court of law.
This one is significant. Her lawyer, HoganWillig's Steve Cohen, went out of his way to try this thing in the media. As of right now, Farah has not filed a lawsuit against Wozniak or anyone else for what happened to him, so the viciousness with which he's been attacked by has been puzzling. 
That the Assembly will make efforts to place Assemblymember Wozniak's former Director of Legislation into a comparable job with comparable pay and benefits and until such placement has been made, he shall receive pay at the same rate at which he was earning during his employment, beginning February 9, 2016 through and including February 8, 2017, or the end of Assemblymember Wozniak's term, whichever is sooner.  All such pay is to be allotted solely from Assemblymember Wozniak's staff budget, and her staff budget shall not be increased from its current amount;
That is par for the course for any complaining victim of workplace sexual harassment, whose perpetrator has jeopardized his job. 
That Assemblymember Wozniak is precluded from having any interns working in her Assembly office or her district office; this prohibition applies to interns assigned by the Assembly as well as any interns that might be engaged through unofficial channels;
Angela Wozniak is not trusted to have free student labor in her office. 
That an independent investigator conduct climate surveys of all of Assemblymember Wozniak's Assembly employees at least semi-annually to ensure that there is no repeat of the conduct; and

That Assemblymember Wozniak be required to attend immediate and comprehensive supplemental sexual harassment and retaliation prevention training.
One tidbit that most people missed came in October from Time Warner Cable News. It appears that Farah is represented by Niagara Falls attorney John Bartolomei, a favorite of Steve Pigeon's. Bartolomei also represents several of the complainants against Dennis Gabryszak. If the theory set forth above is true, could it be that the Pigeon team is working to get one of theirs back into the Assembly? The plan would have been for Mark Mazurek to take the seat, and his sister has been quite famously aligned with Pigeon in recent years – just Google, "Preetsmas + Mazurek". That didn't go as planned, so now they have to fix the Wozniak mistake. 
So far, two Democrats have announced bids for A-143; Jim Rogowski and Monica Wallace. Wallace is a former law clerk for federal judge Richard Arcara, and is now a lecturer at UB School of Law. Rogowski is a Cheektowaga town councilman. It's not hard to decipher which one might have the backing of the Pigeon squad: 
Kristy Mazurek and Jim Rogowski are the clear frontrunners for the 145th Assembly Seat. Bring on the special election! #WNY #Politics

— Steve Pigeon (@StevePigeonPol) January 14, 2014
That Tweet is from January 2014 – right after Gabryszak's resignation.
Rogowski didn't run, and neither did Kristy Mazurek – but her brother did, and lost. So, try, try again.
Rogowski's election disclosures show contributions from a PAC controlled by a Pigeon associate, and Frank Max's Progressive Democrats. He donated $60 to Cheektowaga's "Right Democratic Team", which is still out of compliance (read: breaking the law) by not filing campaign disclosure of any sort since the 2015 11 day pre-primary report. By my last count, the "Right Democratic Team" has failed to account for over $2,000 that others say they donated to it. Max's crew does the same thing. 
Now, that figure approaches $4,000 that other people say they contributed to the "Right Democratic Team", which never disclosed more than $125. 
Suffice it to say that if you think corruption in Albany is remotely important, these aren't the people with whom you want to associate. That failure to disclose isn't some sloppy mistake – it's deliberate and calculated. 
As for Wozniak's transgressions, Democratic candidate Monica Wallace released the following: 
Angela Wozniak's misconduct as determined by the Assembly Ethics Committee is inexcusable and a textbook reminder of what is wrong with Albany. It is especially shocking that a legislator who ran on a platform of family values and personal ethics should be sanctioned for precisely the behavior she once condemned. This wasn't just bad judgment; it was unethical and illegal.

This kind of conduct has no place in Albany or anywhere else. The people of this District expect and deserve an elected official who is as hard-working, honest, and principled as they are. We are tired of the culture of scandal and corruption that has undermined the public's faith in state government. It is time for leadership this community can be proud of. 
It would seem that the voters in A-143 have a clear choice this year when it comes to ethics.