A Candidate Scoffs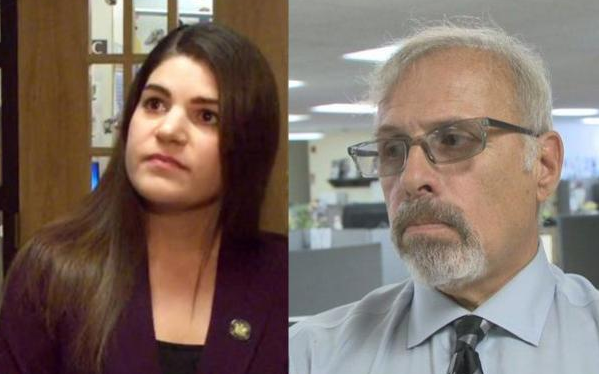 The 60th Senate District: is there something in the water? Are the fumes from the NOCO tanks near the South Grand Island bridge getting to people? Senator – now Judge – Mark Grisanti was elected to represent that district twice – until the tea party ousted him in an almost comically outrageous fit of pique. Was it about gun control and the SAFE Act, or was it about his change of heart on same sex marriage? It doesn't much matter, because the ingenious political machinations from the tea party resulted in liberal Democrat Marc Panepinto now occupying that seat.
Think about the sheer stupidity here. The tea party thought Grisanti was too liberal of a Republican – a "RINO" – that they engineered a win for a genuine liberal Democrat, instead.
The tea party's preferred candidate was Kenmore attorney Kevin Stocker, who is now likely eligible to have the word "perennial" precede the word "candidate". Stocker beat Grisanti in the primary, but lost in a four-way race, and all but told head tea party derpegist Rus Thompson to pound salt.
A decade ago, Panepinto was firmly in the Sam Hoyt / Len Lenihan camp of the oft-squabbling Democratic Party. Now, however, he is perceived to be more closely aligned with the breakaway Democratic faction whose figurehead is Steve Pigeon. It should come as no surprise, therefore, that Panepinto finds himself challenged for the Democratic nod. Under normal circumstances, he should be fine. He's got the power of incumbency and the support of big labor – especially NYSUT, the state teachers' union. Challenging him, however, is Parkside community activist Amber Small.
The winner of this contest will get to run against multimillionaire developer, closing time changemaker, and County Clerk Chris Jacobs.
This being New York, however, we have to pay some minimal attention to the almost criminally fraudulent fusion parties. The Independence Party is neither independent nor a party, having no principles or manifesto. Statewide, it backs whomever it thinks will win. Locally, in the past few cycles, its endorsements have almost universally mirrored the GOP slate. So, in WNY, the IP has become a GOP front group, designed to trick people who think they're voting for "independent" candidates. It's an elaborate fraud designed to trick the poorly informed.
The Greens don't do fusion, so that leaves two sides of the same coin – the Working Families Party and the Conservative Party.
The WFP exists so that the more self-righteous left has a party line to select. Think union stewards and everyone you know on Facebook whose posts have become insufferable all-Sanders all the time. If you've ever uttered the term, "corporate Democrats", the WFP is for you. Its principles and platform are not especially flexible or centrist. They begrudgingly backed Governor Andrew Cuomo's re-election bid, but the true believers really wanted Zephyr Teachout.
The Conservative Party purports to have principles, but it's just an arm of the Republicans. Gosh, one might think that the Republican Party is so unpopular in New York State that it needs to gerrymander districts and control a bunch of extra fusion lines to win the occasional election. Locally, the Conservative Party is run by attorney, power broker, and professional breakfastist Ralph Lorigo. His party hands out endorsements, and his party committeepeople get jobs. It has backed Democrats occasionally – again, depending on likelihood of success, and that jobs might result. Its platform is made up of all the WBEN bogeymen – anti-choice, anti-LGBT, anti-gun control. But it has endorsed pro-LGBT or pro-choice Democrats when it's suited them.
Lately, the Conservative Party has been known for its deep bench of candidates, like not-ready-for-primetime Assemblywoman Angela Wozniak and vulgarian Joe Mascia.
Which all brings us to the relationship that Democrats have with the Conservative Party. Quite simply, one shouldn't exist. In 2015, Mark Poloncarz somewhat publicly refused to solicit the Conservative endorsement. He didn't need it, and he didn't want it. I have, in the past, urged Democrats to reject the Conservative Party fusion line because it is the complete antithesis of everything for which Democrats are supposed to stand. More specifically, the Conservative line has been used in deals between Lorigo and nominal Democrat Steve Pigeon to back candidates who would not be loyal to Democratic county HQ. For instance, in 2012 Pigeon and Lorigo backed the Senate candidacy of homophobe Chuck Swanick.
This all brings us to the current Senate race. Amber Small is challenging Marc Panepinto for the Democratic nomination for SD-60. She made a bit of a splash by "scoffing" in a press release at any suggestion that she might seek the Conservative line. This is significant because Panepinto is telling everyone who will listen that Small is a DINO who will align herself with the Independent Democratic Caucus, which backs the Republicans in the state Senate and gives the GOP their majority. So, she needs to beat back the IDC smear.
So, it's somewhat ironic, then, that Panepinto would be openly courting the Conservative line. One would suspect that County Clerk Jacobs would more quickly win that slot. Small explained that, "The Conservative Party is anti women, anti LGBT, anti environment, and anti reasonable gun safety laws. I will never sacrifice my progressive beliefs to curry political favor and campaign contributions. I am running for State Senate to focus on bettering our communities and providing the 60th district with the resources we deserve. I am a Democrat, and I am committed to providing every child with a quality education, fighting for the rights of women and families, protecting the environment, and creating economic opportunity. I think the residents of this district are fed up with Albany insiders and the games that they play."
So, it's pretty straightforward. If you believe in the things in which Democrats are supposed to believe, you eschew the Conservative line.
Small said, "I'm a progressive Democrat with progressive Democratic values and that's something the voters need to know."
The last time around in SD-60, the Conservatives didn't run a fusion ticket, but a placeholder, who got almost 7,000 votes just by virtue of the "Conservative" label. That candidate did no campaigning and had no money. While Lorigo points to this as proof of his party's clout, it really means that almost 7,000 people voted for a candidate who had the word, "conservative" next to his name even thought they didn't know anything else about him. That's how fusion works – it's a trick. It's a scam. It is about patronage, and it's the very root of Albany and New York political corruption. In 2014, it drew votes away from Stocker and ended up helping Panepinto. Think of it as a non-endorsement endorsement.
All candidates should reject the phony Conservative and Independent lines, and fusion should be repealed. If these minor parties want to run candidates, run them. A system that relies on trickery should end. But most importantly, no Democrat should solicit or accept the Conservative fusion line, ever.