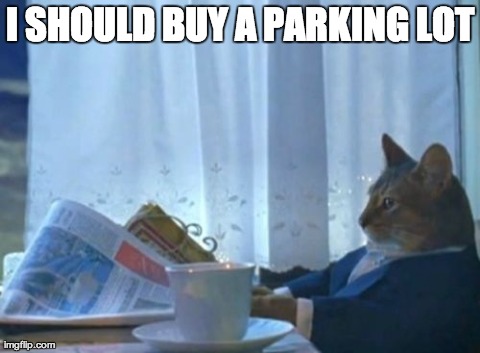 A busy week with late nights, so posting has been regrettably light. So, with the weekend approaching, I leave you with these thoughts: 
1. While Mark Croce may have a right to charge up to $75 for a day's worth of parking at the corner of Blight and Squalor, Buffalo is not a $75-per-day parking city. We don't have a parking shortage, nor do we have any particular need to restrict access to our downtown, so something like Uber's "surge pricing" – something else we don't have in Buffalo –  is a ridiculous notion.
The barrage of counterarguments from people upholding the right to cheat tourists was astonishing.  Airline fares! Hotel rates! Well, sure. But Croce's lot was charging 1500% more than a regular Thursday, and double to triple its usual "event" rate. "They could just drive around" is the method suggested for tourists unfamiliar with downtown Buffalo to find something else. True, I guess – that's should maybe be our local tourism slogan to replace "For Real" or "Sense of Place".  "Just Drive Around a Bit" that doesn't make an outrageous markup any less so. Most of the lots – including the FN Center's own directly across the street from the arena – were $20 for the day. If you were willing to walk a bit, they were less. But part of that "choice" is predicated on you being somewhat familiar with where you are and how to get around. I can't imagine why anyone would pay $60 to park outside in the Buffalo snow, and the law might not consider it to be gouging under the law, but I think it's someone taking unfair advantage of visitors who simply don't know that $60 is an outrage to park around here. Or that we have plenty of other choices. Or that we have a Metro Rail. I argued about this with people on Twitter, and was truly surprised by the number of people defending Croce's right to charge whatever he wants. Well, sure, I guess. But does that make it right? Or does your humanity, good neighborliness, and sense of fairness demand that visitors not be gouged by a greedy millionaire? Welcome to Buffalo! If the government doesn't rob you, our business oligarchs will. 
But seriously, if it costs less to eat the ticket you get from parking in a "No Parking" zone than in one of Croce's lots, the rules of "basic economics" are out the damn window. 
2. Last night the Blue Bash to celebrate the 2014 Undy 5000 and the Colon Cancer Alliance was held at Artisan Kitchen & Baths. While colon cancer is the 2nd deadliest cancer in America, affecting thousands of people every year, there's such a phobia and stigma attached to it that people are dying needlessly. Early detection is the difference between life and death; survivor and victim. My wife is a cancer survivor and we are raising money for the CCA to help its mission, part of which is to provide free colonoscopies to people who cannot otherwise afford them. Please consider donating anything you can at this link. 
3. Looks like a lot of local school districts – Orchard Park, Ken-Ton, Depew, Cheektowaga, Sweet Home, and Buffalo, to name a few – are undergoing the same gut-wrenching budget crisis this year that Clarence underwent last year, and there's more on the horizon.  When Clarence's budget was in trouble last year, the board tried to pass a 9% increase to maintain the status quo. The vote failed, and the curriculum was gutted and electives were eliminated. Some in WNY pointed and laughed. Sprawly, tax-averse Clarence kids got what they deserved, some argued. Well, the hurt is getting spread around while Clarence's crisis appears to be over. If we can't adequately fund our schools and instead prioritize things like handouts to businesses and pothole repairs, then our priorities are beyond screwed up.