2015: The Year in Verse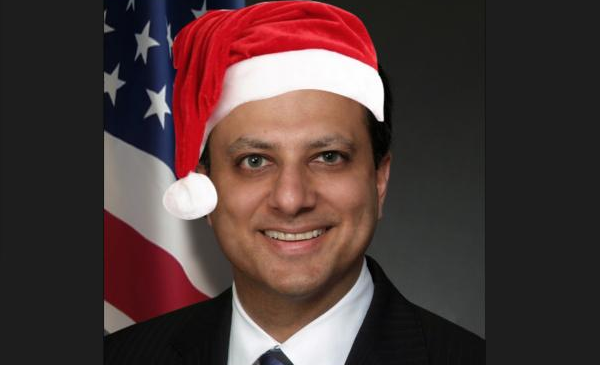 December in Buffalo: snowless and mild.
Politically, this year was especially wild.
We rang in the New Year somewhat aghast,
as we learned that Mario Cuomo had passed.
One loss that cut deeply is one you all know;
Entertainer Lance Diamond was the next one to go.
Our icon of funk had no imitation,
And Buffalo gave him a worthy ovation.
Dave DiPietro, needing something to do,
learned of a library book—maybe two,
which told kids to read and to learn—that's all right,
but these books involved Muslims, so he picked a fight,
and, pretending to be so concerned that he asked,
whether both of these books should be banished at last!
But these volumes explained that in Afghanistan,
kids can't do what ours do, thanks to the Taliban.
In Albany, meanwhile, something awesome occurred.
An indictment! Shelly Silver was charged, so we heard.
The Skeloses, too, were found on the hot seat,
courtesy of an attorney named Preet.
They all were convicted, Shelly, Dean, and his kid.
They're going to jail thanks to quos pro that quid.
Nevertheless, these wins seem awfully pyrrhic,
and the Albany culture seems downright satiric.
Quickly thereafter, we heard—more than a smidgen,
That agents were sniffing 'round G. Stephen Pigeon.
In late May, you'll recall, a series of raids,
caught Pigeon and Casey and one or two aides,
but the Preetsmas Day massacre tale is still pending;
nothing new to report, and no news of its ending.
While here, we found that we've really been blessed.
For hipsters, a kingdom became manifest.
The listicle writers in Brooklyn and Queens,
know that five-borough living isn't all that it seems.
For Wegmans and cheap housing rates, we get envied,
and economists say our job market's quite frenzied.
In Lancaster, the school board humbly proposed,
to change the team's name, but were harshly opposed,
by some who thought "Redskins" a suitable name,
for kids to play sports in, without any shame.
But Native Americans quickly caught on,
and argued that "Redskin" needs to be gone.
They turned to the kids, after much agitation,
who came up with "Legends," after due contemplation.
But to this very day, you can go to a game,
and find people still angry over a racist team name.
Carl Paladino characteristically fought,
against logic and reason, and thickened the plot,
as he bullied a guy here to track civil rights,
Carl turned the board into a joke on most nights.
One thing's for sure, as the district descends,
into receivership, Carl and his friends,
must work better with others, just as we'd expect,
a young student to do, and to have self-respect.
In the BMHA, a commissioner said,
some unspeakable words, and when caught, quickly pled
that he never would say the "n" word—not at night or in morning,
but the problem for him was the cell phone recording.
Joe Mascia was running for Franczyk's position,
in an effort that honestly needed magicians.
You won't win in Fillmore—it'd be quite absurd,
if you casually pepper your speech with that word.
Now Donald Trump's surging, unemployment is down,
Musk's Solar City's the new game in town.
The Green Code is here, and the billion gets spent,
Investigative Post tells us what it all meant.
When election time came, it was really a snooze,
Poloncarz re-elected, but there was some news,
Fudoli was gone, but legislature incumbents,
all won, and it all seemed a bit too redundant,
turnout was low and the races were boring,
hell, Democrats didn't even deign to be warring.
In August, our town went a little insane,
after a woman alleged Patrick Kane,
had raped her—she went to the cops right away,
and some blamed the victim within a few days.
In the end, Tom Eoannou had showed off a bag,
that purported to be the rape kit—a red flag.
But it wasn't, and the case simply ended in days,
and Kane skated—his problems have melted away.
Joseph Lorigo, as the year drew to a close,
Tweeted some questions he wanted to pose.
Expressing concerns about the criteria,
used to bring refugees over from Syria.
A big demonstration was held here downtown,
and refugee services wouldn't back down.
The community welcomes the tired, the poor,
who help to make Buffalo better than before.
It wasn't too long ago Brahmins and such,
hated Irish, Italians, and Poles just as much.
It's 2016, let's all hoist a craft beer,
wishing all of you peace and a Happy New Year.