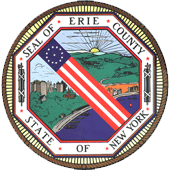 During the Snowvember / Knife storm, some municipalities made complaints about county or state aid, and there was a concerted push on local Squadrismo Radio (traffic, weather, and sedition on the tens – these guys, who think it's cute to assault & batter former First Ladies), to criticize elected officials (all of them Democrats) for, e.g., not getting small town side streets plowed as soon as people would have liked. There was some legitimate debate over the speed with which the Thruway was closed, and how quickly people were freed from their cars, but as we discovered later on, when Cuomo allegedly criticized the National Weather Service's forecast, there was ample warning of a historic snow event on Monday night into Tuesday.
All of a sudden, personal responsibility goes out the window when there's a Democrat available to criticize. The WBEN Snowtrolling was amazing and unprecedented.
County Executive Poloncarz sent a warning about the storm to his disaster response team on Sunday night, and by all reasonable and impartial accounts, they performed admirably; "real leadership", the Buffalo News called it.
But some towns have been complaining about the lack of county plows, despite the fact that they apparently had not bothered to use the decade-old computerized system to request them. In 2004, the County implemented the "DisasterLAN" or "DLAN" system for municipalities to use to request – and the county to coordinate – disaster response, including county plows.
The DLAN system is specialized for disasters and is heavily used around New York State, he said, but ignored by many Western New York highway officials.

"The problem was that only one or two people even knew about the system," he said, despite county insistence upon its use.

Even conference calls proved inconsistent, he said, with Boston never participating in the daily planning and Orchard Park "hit and miss."

The county executive pointed to Lake Avenue in Hamburg, a hard-hit road visited by Cuomo on Thursday. It was inserted into the DLAN system because of the volume and underlying ice pack, and therefore became a priority.

"The county knows how to use it, and 95 percent of the towns know how to use it, but not all did," Poloncarz said. "If those people don't utilize it, we can't help it."
And Lancaster Village Mayor (because we totally need a village overlaying a town government) Paul Maute "never heard of" DLAN, which is apparently everybody's fault but his own, despite the fact that it's been used for 10 years.
According to both Fudoli and Hoffman, halfway through the storm they became aware that in order to receive resources such as additional plows and other machinery, they had to use a Web-based system called DLan, but they had little success in doing so.

"The entire storm we were told we had equipment coming," said Hoffman.

"We never heard of DLan until a couple of days into it," added Maute.

According to Fudoli, requests submitted by Lancaster employees were not fulfilled, but the system repeatedly labeled them as "completed."
So, there's a computerized system that's a decade old that works perfectly well, but a few highway superintendents don't understand or use it, so it's everybody else's fault that, e.g., the Town of Boston didn't get a call from the County, or the Mayor of Lancaster never heard of the county's disaster system. How about using the DLAN or picking up your own phone? All you need to use DLAN is a connected browser. Personal responsibility gone, waiting for big government to bail them out.
Lancaster Supervisor Dino Fudoli learned that he was supposed to use DLAN "halfway through the storm", but he was a legislator for the entity that set up and runs DLAN – Erie County?! 
That's before we get to the concept of there being 7 feet of snow on the ground as another 2 feet dumped down just a couple of days later. You can't just snap your fingers and get every side street in WNY plowed out overnight under those conditions.
Another meme that's popped up has to do with how Governor Cuomo was preening for the cameras when he showed up with his entourage (read: cabinet) to stay in WNY for several days to help coordinate storm clean-up and response.
Right. Photo-op. Except that Governor Cuomo did exactly what any rational person would expect a governor to do – show up and offer state aid, money, and manpower to get the Southtowns up and running again. Had he not showed up, these same people would be whining about how Cuomo abandoned WNY again.
Cuomo is an arrogant downstater who doesn't brook much dissent and is rude to the press and critics, plus he took some guns off the market and limited how many bullets can go in there, so he's been likened to Hitler.
If you want to criticize the speed with which the Thruway closed, or how he came across poorly when talking about the weather service, that's fine. But hammering the governor for showing up at a disaster area and ordering that help be given? Don't be a dick.