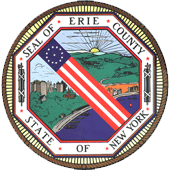 Kudos to the members of the Erie County Legislature for acting like grown-ups (for the most part), and reasonably negotiating a 2015 budget that will lower the tax rate to under $5.00/$1,000 of assessed value, and ensuring that cultural and library funding remains in place.
The Republican majority trimmed about $2 million from County Executive Mark Poloncarz's original budget proposal, and $300,000 was added to protect culturals.
There was some acrimony at the start of the session, with the Democratic minority complaining that the Republicans had not provided a breakdown of its proposals to them in advance. The session likely took longer than it needed to because of that, but in the end the budget was passed unanimously.
I'm still of the opinion that county government, whose main job is to act as a pass-through for state funding, is superfluous and unnecessary.  Abolishing county government is something I've been talking about since the budget crisis from the last decade, but it's no less relevant now. The vast majority of what the legislature does is mandated and ministerial. Do we need this entire stratum of government to debate the small percentage of stuff that's discretionary?