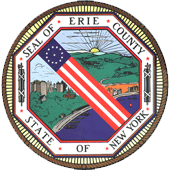 The Erie County Legislature has one elected member of the Conservative fusion Party – Joe Lorigo, whose father happens to be the chairman of the county committee. This particular fusion party is very influential in New York politics because it helps both Democratic and Republican candidates burnish whatever "conservative" bona fides they think might be necessary to win a general election. In conservative towns like Clarence, Democrats have a tough (read: almost impossible) time getting elected without the Conservative Fusion Line.
Lorigo caucuses with the Republican majority coalition, which also includes Independence Fusion Party member Lynne Dixon, and they hold their majority by one vote. John Mills is the chairman, and Lorigo is majority leader.
A few articles appeared recently (Buffalo News; Bob McCarthy column; Daily Public) concerning an incident whereby an email was leaked from someone likely associated with the Republican caucus. The email, written by the Republican chief of staff, was critical of the Democratic minority and its staff, and was over the seemingly minor issue of flexible time – employees seeking the option to work 8 – 4 instead of 9 – 5. Here's the email thread:
It's sort of funny. How is 8 – 4 lazier than 9 – 5? I think you could argue the opposite. The, "news…writing stories" about all this was somewhat prescient, albeit for different reasons.  Nice of the legislature to hand out 2% raises and I'm pleased to see that even Republican hacks think that "phenomenal health care" [sic] is a good thing.
Nevertheless, whoever leaked it was smart in one specific way – if you're going to leak an email, do it by US Mail, because it's going to be impossible to trace back to the source. If you were to just forward it – even a few times, via your personal email address – there would be a way for savvy IT people to trace the computer from which it came.
So, that's what the leaker did – sent the email by regular mail to Democratic legislators' field offices. The News and Public reported that an aide to Republican legislator Kevin Hardwick was implicated as the source of the leak, and suspended without pay. The aide – Susan Gregg – is a longtime friend of Hardwick's, and her anxiety over the whole thing has adversely affected her health.
Hardwick reacted angrily to the suspension, and expressed to people that he thought it was untrue at least, and unproven at best.
There has been speculation that this is Lorigo's payback against Hardwick over the shutting down of Amigone Funeral Home's crematorium in Hardwick's district over pollution concerns. In a telephone interview with me last week, Lorigo denied this, citing the Amigone issue as just a routine legislative defeat, unworthy of revenge.
Earlier in December, the legislature considered the 2015 county budget. Lorigo and the Republicans had a package of about 60 amendments that they intended to present and have the legislature consider, but refused to let the Democrats see any of the amendments they'd be asked to vote up or down.
As each amendment came to the floor, Democratic legislator Pat Burke would immediately move for a recess to have a chance to review each one. The first time, he asked for an hour. Hardwick crossed party lines and voted with the Democrats for the recess.
This continued on for a few amendments – each one would come up, Burke would ask for a recess (he requested 15 minutes for subsequent ones), and Hardwick would vote with the Democrats to give the minority a chance to read and consider each one. In the end, a deal was struck giving Democrats a half-hour to review all remaining amendments. Some of them were important – for instance, the Republicans mistook a merger of two part-time library positions for the creation of a new full-time position and intended to eliminate it, until the Democrats advised them otherwise. In one instance, the Republicans almost eliminated a measure put in to settle a pending employee grievance.
Democratic sources at the legislature, speaking on the condition that they not be identified, characterize the Republican caucus as "hating each other", and point the blame squarely at Lorigo. Some at the legislature have begun to refer to Lorigo using fictional or historical pejoratives. Despite this, his behavior is excused by people who covet his father's club's endorsement. The word "enablers" was uttered by more than one person with whom I spoke.
In the end, the legislature passed the budget unanimously, and Hardwick thwarted Lorigo's efforts to jam the amendments through without review or debate. As one Democratic source said, "[Lorigo needlessly] violated his own rules to fuck the Democrats in the budget process."
When I specifically asked several people at the legislature whether Joe Lorigo is given wide berth so as to not piss Ralph off and lose a future Lorigo party endorsement, the answer was strongly and uniformly affirmative.
News reports have focused on Lorigo's efforts to find out the source of the leak, going so far as to demand the email passwords of Republican staffers. Susan Gregg has retained the services of attorney Jim Ostrowski, who told me that he had served the County with a "notice of claim"; a statutory prerequisite to filing suit over this personnel matter. Lorigo refused to comment, citing the pending litigation.
Republican sources, speaking on condition of anonymity, counter that Gregg has been a "disciplinary problem" and a "shit-stirrer" in the past, so they argue that it's not far-fetched to suspect her as the leak. Lorigo interviewed everyone in the email string and asked for their login and password to see what was sent and received, and rumor has it that there was an agreement among Republicans at the leg to terminate whomever was determined to be the leak, but that Hardwick balked when Gregg was accused; hence, the suspension.
Hardwick was extremely angry, and claimed that there was no proof whatsoever of Gregg's guilt – there was no way of knowing when or from where the emails were copied or printed, but Gregg had allegedly forwarded that email to her personal email address. When the letter hit Democrats' mailboxes, Betty Jean Grant and Barbara Miller-Williams were upset, and Republicans were embarrassed.
Hardwick asserts that he doesn't know who sent the letter, but he's convinced it's not Gregg, who denies having done so.
It takes special skill to mess up an historic majority, but it would seem that infighting isn't a disease that affects only Erie County Democrats. It can, however, have the same deleterious effects.