Every year, my friends at Lake Effect Ice Cream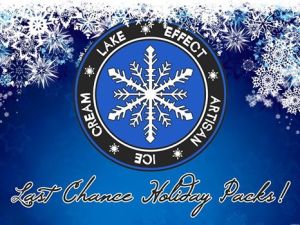 do a special holiday bundle featuring four extra-special, one-off pints for pick-up in mid-December. If you order before this Friday December 5th, you'll get a special bonus gift (could be a poster, could be a gift certificate, could be your own bespoke flavor).
Order now at this link: http://mkt.com/lakeeffecticecream
Pickup dates and times are as follows:
-Thursday, December 18th from 4-8pm
-Friday, December 19th from 5-9pm
-Saturday, December 20th from 9-3pm.
This year's flavors sound incredible:
The Nog
Extra sweet cream, fresh nutmeg and Vietnamese Cinnamon, blended with Bulleit Kentucky Bourbon Whiskey. A hint of spiced rum gives it a little extra "warmth."
S'mores and Hot Chocolate
Hand toasted marshmallows and chocolate chunks with bits of Platters' milk chocolate-crusted cinnamon and sugar graham crackers, swirled into Lake Effect's amazing Frozen Hot Chocolate Ice Cream.
Chevre and Figgy Pudding
The ice cream for the core of this flavor is a unique, ultra-rich, chevre ice cream. The true star of this flavor, however, is Lake Effect's brown sugar and butter sauce that they blend together with freshly pureed black mission figs.
Candy Cane Parfait
A creamy and delicate peppermint cream ice cream, with folded-in small pieces of candy canes. Lake Effect then created a house-made candy cane syrup to use in between the ice cream layers in each pint. All pints are packed parfait style with their syrup between the layers. Last, each pint is topped with a dusting of crunchy candy cane pieces.