This Place Matters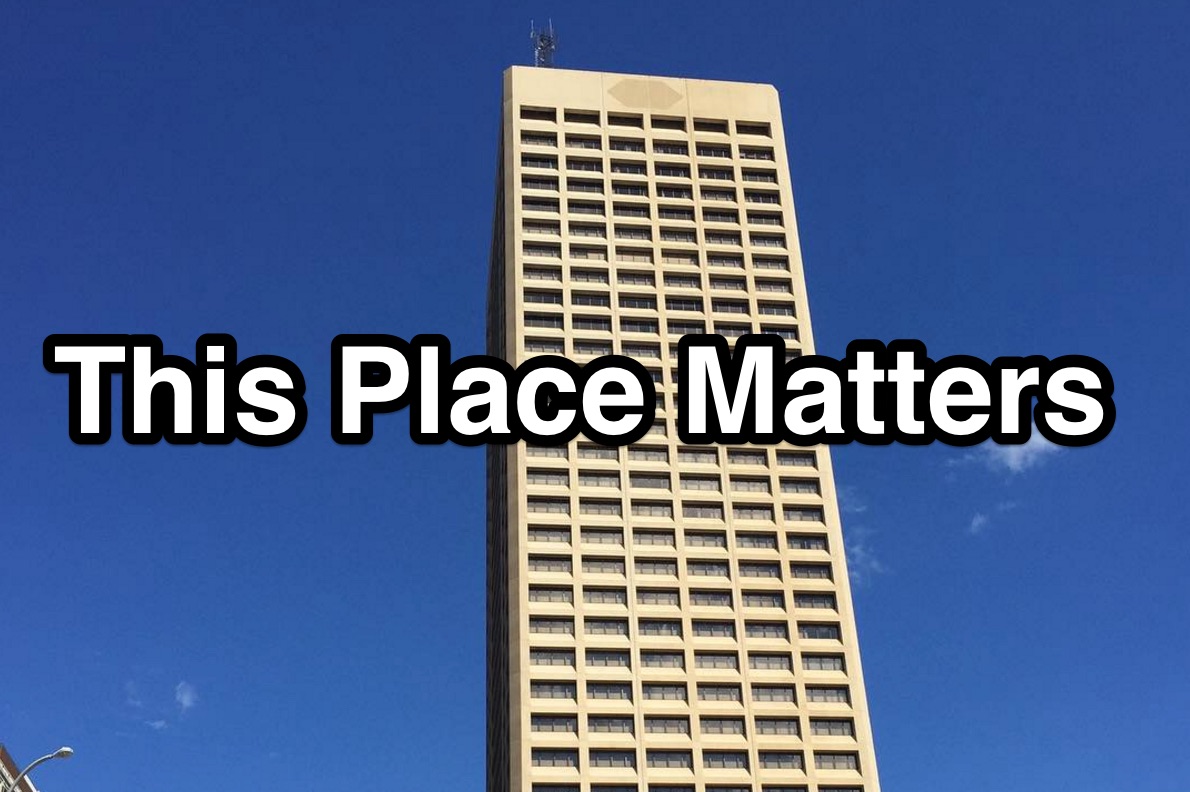 The Execrable Donn Esmonde, the Buffalo News' retired, detestable anti-suburbs, anti-public school ersatz-columnist, has finally stumbled upon a building he'd like to demolish. In a column hilarious for its blatant hypocrisy, Mr. Preservation, Mr. "This Place Matters", calls for the implosion and disposal of the 40-story modernist but distressed structure that stands empty at the foot of Main Street. The guy who lauds Tielman, Goldman, and Termini for their historic preservation of Buffalo's existing buildings, regardless of their architectural merit (see, e.g., Freezer Queen), reckons we should rip down the city's most prominent tower. 
The city's roster of registered landmarks contains an armful of bog-standard square brick warehouses and the Tishman Building, but not our most prominent skyline feature? That's amazing. 
In the late 60s, the thriving and locally-owned Marine Midland Bank retained the world-renowned firm of Skidmore, Owings, and Merrill to design its world headquarters. (They also did the Albright Knox's annex). This was when Buffalo was deep into its catastrophic urban renewal, which was the trend at the time. But just like Boston can't just un-do its uninvitingly Brutalist Government Center and City Hall, Buffalo can't just eliminate a temporarily inconvenient skyscraper. One Seneca Tower's occupancy rate was close to 90% less than five years ago. When HSBC, the Canadian Consulate,and Philips Lytle vacated all within weeks of each other, the building essentially emptied out. 
That doesn't mean it's useless. Just because it's difficult for one out-of-town investor to execute a rehabilitation plan doesn't mean it's impossible, nor does it render the building garbage. Or insignificant. Or ripe for demolition.
If the peeling, dilapidated, blight of the Freezer Queen is worth saving, how is it that One Seneca Tower is worth demolishing? 
Because Rocco Termini and Paul Ciminelli say it's hard to redevelop. 
Maybe Termini could open up another hipster fast food joint named after a sex position made from faux shipping containers. Maybe Ciminelli just hasn't paid off contributed to the right politicians to make the project work. So many variables, so little "belovedness". 
Forget the bottomless-pocket developer with more optimism than sense.

What the giant albatross of One Seneca Tower may need more than anything is David Copperfield.

The best thing that could happen for downtown is for the vacant, 38-story behemoth to suddenly disappear.

Problem solved, with the wave of a wand.

The New York City developer who conditionally bought Buffalo's tallest building backed out last week. Harvey Kaylie was predictably unable to find anyone to help lift the $27 million purchase load – and estimated $100 million rehab.

The problem isn't that the place is too big to fail. It's too big to fill.
For now. 
One Seneca Tower stands a block from a still-under-construction Canalside, a place where the old Donovan building has undergone a gut rehab and the Pegulas put up a massive 20-story hotel and rink project. One Canalside has 8 stories, housing a law firm and a hotel. That's 28 stories recently completed steps from the 38-story Tower. The demand for space there may not be there now, because it's over 40 years old, empty, has high carrying costs, and needs rehab. But that doesn't mean it's impossible or unfeasible. 
Esmonde won an award for championing the preservation of the Richardson Towers – a series of buildings that stood empty for decades before someone finally, recently, undertook a rehabilitation. LP Ciminelli is in charge of that costly, heavily subsidized rehabilitation, but the former insane asylum is "beloved". Specifically, the Richardson deal is, "assisted by $64 million in State funding."
That's the reason only out-of-towners have sniffed around this stinker. The locals who know the Buffalo market understand that the numbers don't make sense. Not for $27 million. Not, maybe, for $27.

"I wouldn't touch it for a dollar," developer Paul Ciminelli said. "It's so big. You've got $100 million in rehab, plus years of carrying costs before you turn the lights on."
Benderson spent $30 million to re-do the empty Donovan Building. HarborCenter cost the Pegulas an estimated $172 million. But $100 million is too much? Hell, the state is paying Ciminelli $750 million to do the SolarCity facility. I guess the argument is that the people earning bigger bucks at SolarCity or the Medical Campus simply wouldn't be interested in living, working, or playing in a mixed-use rehabilitation of a building with the best views in Buffalo – and underground parking, to boot. 
The former HSBC Tower is a symbol of a particular time in Buffalo's past, but only the short-sighted or cynical would think it is valueless going forward. 
The Urban Land Institute suggested a few years ago that the community "partner" in the building's revival with a huge subsidy. That notion landed with a thud. The CEO of Ciminelli Development thinks any tax dollars would be better spent on a wrecking ball.

"To me, demo it for $20 million and put out [development] proposals for a great, open site," Ciminelli said. "You could do something exceptional there."

Just not 38 stories high.

Granted, demolition is an extreme solution. And not the first option. But it's not as if the building is beloved.
That last sentence underscores the cynical phoniness of a lot of "historical preservation" in Buffalo. It's not really about a building's objective historical significance – it's about emotion. One Seneca Tower is not "beloved", so the preservationists' signature propagandist is okay with its demolition. Yet Freezer Queen and Trico are somehow "beloved"? The Bethlehem Steel administration building was so "beloved", it had been vacant, ignored, and covered in weeds for decades.
It looks like it was birthed by a mammoth waffle iron. It's hardly unique – the same uninspiring mold stamped out a multitude of similarly cross-hatched '70s buildings. Its perimeter is infuriatingly anti-urban – a square block walled off from its surroundings, like a castle designed to keep out the infidels. The building is part of an architectural era aptly known as "brutalism." If we're lucky, the tower – in a two-for-one demo deal – will take out the Skyway on the way down.
Inaccurate. It shares its design with only one other building – a tower in Minneapolis – and is an example of modernist, not brutalist, architecture. (They are related, but not identical. Brutalism usually incorporates bare concrete, which isn't used in the One Seneca Tower). According to Architecture.com, modernism is recognized by its use of "rectangular or cubist shapes; minimal or no ornamentation; steel and or reinforced concrete; large windows; [and their] open plan." As for its fortress-like base, there are no doubt myriad ways that skilled designers could figure out ways to improve that, especially if the structure is transformed into a mixed residential/hotel/business building.
Put an observation deck and restaurant on the top floor, while we're at it. No building has better views. 
One thing is certain: The huge empty building is an embarrassment. It stands at the foot of Main Street like a giant exclamation counterpoint to downtown's rebirth and Canalside's development. As long as its lights are out – and the nearby 19-story Statler's cup remains 9/10ths empty – downtown's revival comes with a huge asterisk.
It's been empty for only a couple of years; five years ago it was filled and bustling. Now that new uses for it must be examined, there's a cost involved in updating it. But Buffalo is "America's Best-Designed City" with One Seneca Tower in it. When talking about a flop-house-turned-luxury-hotel, Esmonde says, "We are repopulating downtown and transforming such icons of the past as the Lafayette Hotel – saved from the wrecking ball – into foundations of our future. It's deeply gratifying for all of those who fought over the years for civic sanity." Except for the city's largest and most prominent building. Go ahead and rip it down because it's not "beloved" by Esmonde and his clique. "So many of the stories we now tell about Buffalo and our identity concern sites or buildings that were saved by preservationists." Except, I guess, the story of Marine Midland Bank. I guess that entity doesn't "matter", and isn't part of Buffalo's "identity". 
Maybe it all means that Tim Tielman doesn't like the tower, so Esmonde doesn't care, either. When the Chautauqua Institution announced plans to re-construct its auditorium to make it technologically up-to-date and ADA compliant, Esmonde had a predictable fit. It's "beloved", after all. Buffalo's tallest building? Meh. 
Life was good, when former tenant HSBC Bank took up three-quarters of the space. The bank's departure three years ago made a huge sucking sound still echoing through 1 million square feet of emptiness.
When the preservationists demanded that Trico not be demolished, one person said that place "mattered" because her parents met while working there. Yet, a place that is – if nothing else – symbolic of Buffalo's never-ending aspirations to be a world-class city should be demolished without a second thought. Maybe we just need to find some people whose parents met while working at HSBC. 
If it was Matt Enstice who was advocating for the demolition of the tower, rather than Ciminelli or Termini, Esmonde would be screaming for it to be heart-bombed, the subject of a teach-in, and treated to a human chain. 
"They're testing the market, and finding out there is no market," said developer Rocco Termini, who counts the 1904 Hotel @ The Lafayette among his downtown resurrections. "The smart money is not going for that building. There's so much space to fill."

Termini thinks the building may be beyond private-sector salvation. If the price drops to $10 million, he thinks the state should step in with Buffalo Billion dollars and repurpose One Seneca.
Termini can rehabilitate a warehouse and turn it into lofts because of a public subsidy. Rocco Termini and Paul Ciminelli don't have the vision, inclination, or money to rehabilitate Buffalo's tallest tower, but perhaps someone does. Maybe not right now, but at some point. Suffice it to say that demolition seems, at the very least, extraordinarily wasteful. That building may need rehab, but everything about it was designed for flexibility of use, and the location is unbeatable.
"They're running out of space on the Medical Campus, which is connected [to One Seneca] by Metro Rail – and you've got underground parking at the Tower," noted Termini. "ECC is spending $30 million on a STEM building at North Campus. It would work better in One Seneca. I can't believe the state couldn't find a use for the building."

It may have to. Unless somebody has a spare $100 million, we're looking for a magic wand – or a wrecking ball.
From the City's own statutes, 
The Preservation Board shall, upon such investigation as it deems necessary, make a determination as to whether a proposed landmark, landmark site or historic district meets one or more of the following criteria:

(1) It has character, interest or value as part of the development, heritage or cultural characteristics of the City, state or nation.
Buffalo's own Marine Midland Bank built One Seneca Tower to be its world headquarters. Marine Midland's history goes back to 1850, when it was founded in Buffalo to serve the economic needs of Buffalo's waterfront. The tower was an emblem of its then-prominence as the region's largest bank; by 1980, it was a national bank with $20 billion in assets. 
(2) Its location is a site of a significant local, state or national event.

(3) It exemplifies the historic, aesthetic, architectural, archaeological, educational, economic or cultural heritage of the City, state or nation.
That location at the base of Main Street and adjacent to Canalside is undoubtedly significant, and the building exemplifies the economic and historic heritage of the City of Buffalo. Again, it was built to be the headquarters of a locally based national banking entity. It's not very sexy, but neither are wiper blades. 
(4) It is identified with a person or persons who significantly contributed to the development of the City, state or nation.
The people who created Marine Midland helped to finance the growth of Buffalo's waterfront industries – the ones that left places like Silo City behind. How can Silo City matter, but not the bank that financed its creation? 
(5) It embodies distinguishing characteristics of an architectural style valuable for the study of a period, type, method of construction or use of indigenous materials.

(6) It is the work of a master builder, engineer, designer, architect or landscape architect whose individual work has influenced the development of the City, state or nation.

(7) It embodies elements of design, detailing, materials or craftsmanship that render it architecturally significant.

(8) It embodies elements that make it structurally or architecturally innovative.
It is a Modernist building designed by world-renowned architects who also built other landmarks such as the Lever Building in New York and Chicago's Sears Tower. Nothing in this code, it should be noted, mentions whether a building is "beloved". 
(9) It is a unique location or contains singular physical characteristics that make it an established or familiar visual feature within the City.
I'm pretty sure that the tallest building in Buffalo – which has had that title since its construction – has "singular physical characteristics" that make it a "familiar visual feature" of Buffalo's. 
B. Any structure, property or area that meets one or more of the above criteria shall also have sufficient integrity of location, design, materials and workmanship to make it worthy of preservation or restoration.
There's nothing wrong with the Tower; it's not structurally unsound nor otherwise objectively unworthy of preservation or updating. It's ready to go – 40 stories of what was until very recently Class A office space. 
But it's not "beloved", and Donn Esmonde talked to two buddies who are developers, and they say it's hard to rehab. So, Donn Esmonde has found for himself the very first building whose demolition he advocates. 
Perhaps we could slap some red cardboard cut-out hearts with slogans like "This Place Matters" and "#Buffalove", and people could learn to love it.