Beware the Nitwit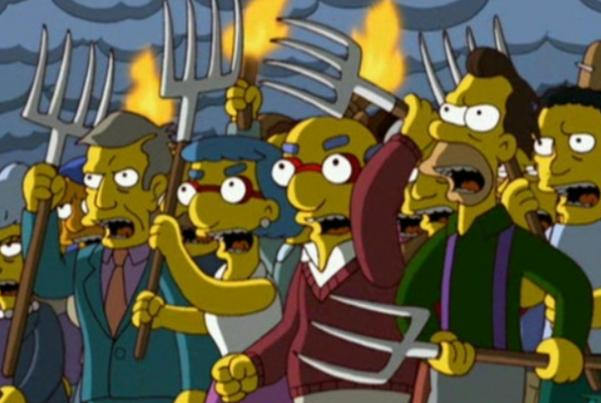 What better way to celebrate the Christmas season than to assail an idiotic thing that soon-to-be Trump '16 NYS chair Carl Paladino sent around to his flock, and a ridiculous letter to the editor of the Buffalo News?
Carl and Marx
I tried to hunt down the opening quote, but the only place it shows up is on conservative blogs and sites re-printing this very post.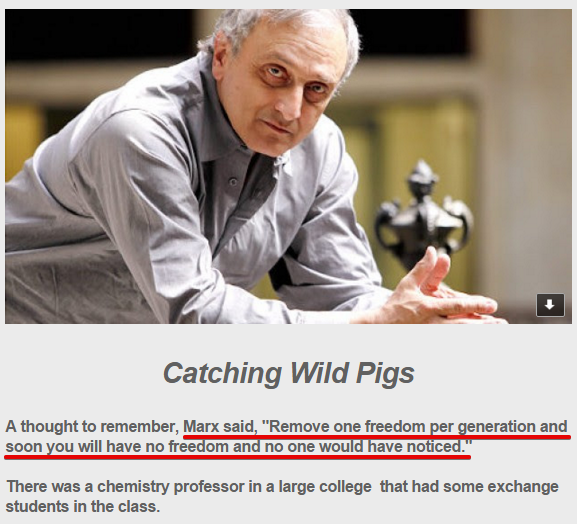 That quote I underlined in red for Marx: there's no evidence that Marx ever wrote or said any such thing. At best, it appears to be a juvenile paraphrasing of Ronald Reagan's, "freedom is never more than one generation away from extinction". Karl Marx said a lot of things, but not too many on the subject of "freedom". Indeed, when he did touch on "freedom", it was within the context of class struggle and the relative freedoms of the proletariat vs. the bourgeoisie. If one looks back to the crises of capitalism that bookeneded the 1920s and, which exists in our post-2008 crash world today, we see that Marx warned of growing concentration of wealth at the very top of the social classes, and that this would lead to proletarian anger and revolt. To a certain degree, that explains the appeal of Trump and Sanders in a country that doesn't go in for coups d'etat.
So, Carl Paladino kicks off his regurgitation of an email forward with a quote that Marx never said or wrote, but why bother checking?
The story goes on to explain how you can attract wild pigs by throwing free food at them, and then gradually pen them in while they're busy feeding. This is a handy way to set up your anti-Obama analogy, and also to denigrate the poor and blame them for their own misery by likening them to wild animals. The email ends,
The young man then told the professor that is exactly what he sees happening in America. The government keeps pushing us toward Communism/Socialism and keeps spreading the free corn out in the form of programs such as supplemental income, tax credit for unearned income, tax exemptions, tobacco subsidies, dairy subsidies, payments not to plant crops (CRP), welfare entitlements, medicine, drugs, etc., while we continually lose our freedoms, just a little at a time.

One should always remember two truths:

There is no such thing as a free lunch, and you can never hire someone to provide a service for you cheaper than you can do it yourself.

If you see that all of this wonderful government "help" is a problem confronting the future of democracy in America, you might want to share this with your friends.

If you think the free ride is essential to your way of life, then you will probably not share this.

BUT, God help us all when the gate slams shut!

Quote for today: "The problems we face today are there because the people who work for a living are now outnumbered."
So, let's say you're dying and in hospice, and it's covered by Medicare. That's you being a wild pig losing your freedom.
Perhaps you're a cancer patient on a subsidized health insurance plan under Obamacare. You receiving chemotherapy covered by your health insurance, as opposed to million-dollar bills and medical bankruptcy: that's you getting penned in with your free lunch.
If you're a poor black kid who has the misfortune of being a student in the shoddily run school system over which Mr. Paladino presides, your education, your subsidized lunch, your Medicaid – that's you losing your freedom. Freedom, I assume, to be uneducated and hungry.
If you've engaged in "estate planning" to sell off your elderly parent's belongings to qualify her for Medicaid, in order that the state will cover a $50,000/month nursing home bill – you're just a wild hog, too.
Did you notice the line about "tax exemptions"? I guess that makes Carl a wild pig, too, for every project he builds that gets an IDA grant, or pays a payment in lieu of taxes (PILOT)  instead of straight-up property and school taxes.
Paladino, however, modified that "quote for today" at the end in order to mimic a common right-wing radio trope:

You can pick at that all day – from the clumsy use of pronouns to the idea that some people vote in order to maintain their free ride through life. In a way, that might explain Mr. Paladino's own political theater. This is a guy who wages childish verbal wars with alleged "RINOs", but he's all too happy to donate money to Democrats when there's a freebie or benefit in it for him.
The KISS Dentist on Transgenders
Cheektowaga's Eric Schroeder is better-known as the "KISS" Dentist on Harlem Road. He has strong opinions about what a school board a few towns away is up to:
The parents of the Hamburg School District should be outraged. For the School Board to take one minute to determine a "transgender" policy shows the lack of consideration to the rest of the students, parents and staff.
No, they shouldn't be outraged at all. As a matter of fact, the parents in Hamburg should be relieved that their school board has the reading comprehension and critical thinking skills to see that the state Education Department's gender identity policy protects not only the transgender and gender non-conforming students, but all students. You can read more about it at this post.
Children today are already horribly oversexualized, and allowing mixed sexes in bathrooms and locker rooms is just plain wrong. In any grade, there is no reason to let girls into boys locker rooms or boys into girls locker rooms. If this were done in any other public institutions, it wouldn't stand. How does this stand in our public schools?
This gets back to one of the points I made in my earlier post: the people equating transgender and gender non-conforming kids to simple cross-dressers have it all wrong. Kids don't just get to decide one day that they're going to use a different bathroom or locker room. Hell, for all Dr. Schroeder knows, there might be a transgender male using the locker room at his gym as we speak.
Whether kids today are any more or less "horribly oversexualized" than any prior generation is, I suppose, up for debate. But if you equate bathrooms or locker rooms with sex, maybe you're the one who needs to get right in the head.
This kind of sexual exposure is in line with endangering the welfare of a child and violates parents' rights and responsibilities to their children. If I were a parent in Hamburg or any other district that put forth such nonsense, there would be the start of a class action lawsuit for endangering the welfare of my child.
"Endangering the welfare of a child" is a crime, not grounds for a civil action, much less a class action. If our dentist friend had bothered to read the text of the policy as it relates to locker rooms, he'd have found this: "[t]he district will allow a transgender or GNC (gender non-conforming) student to use the restroom and locker room that corresponds to the student's consistently expressed gender identity at school. Any student requesting increased privacy or other accommodations when using bathrooms or locker rooms will be provided with a safe and adequate alternative, but they will not be required to use that alternative." Did you see that text I highlighted there? ANY student. So, if a Hamburg student or parent has a problem with this, they can request an alternative.
Catering to one or a small group of people is bad enough. Now School Board members are listening to young children, full of confusion and raging hormones, rather than their own reason and the parents who pay school taxes.
You know, the fact that you pay school taxes doesn't give you some license to override or decide every policy you don't like. In this case, the Cheektowaga dentist does not pay Hamburg school taxes, as far as I can tell. Also, this isn't up to the school board to implement; the board makes the policy, the administration carries it out. It's up to the principals and teachers to figure out how best to implement the policy and make whatever accommodations are necessary in order to guarantee the comfort of "any student". What the dentist would like to say, but doesn't have the stones to, is that he thinks transgender is all bullshit. I don't really understand why more people don't just come right out and say that, rather than dancing around a lot of weasel-words worse than any lawyer could muster. After all, these are the same characters who think political correctness is leading to the destruction of western civilization.
I'd like so see my tax dollars go to educating the kids of today about our rich and exceptional history, the great things we have sacrificed and done for other countries and the world. Shifting the thought process to something as ridiculous as "transgenderism" in such young children is a disservice to all and needs to come to an end.
This guy made it through dental school? This is a policy to deal with an issue that already exists. It has nothing to do with the school curriculum; a curriculum that is replete with courses and credits dedicated to American exceptionalism.
In doing annual battle against anti-school crusaders in my own town, I see these sorts of semi-informed arguments all the time.  I see the elevation of tax payment to a level surpassing that of student, teacher, parent, or average citizen. I see the appeals based on misinformation. I see the vacant wishes that the school curricula would teach something already being taught whilst anti-tax sentiment cuts things like music and extracurricular activities.
No other government is required to submit its budget to annual scrutiny and plebiscite like this. Only schools. And here, where schools are being asked to carry out the law and ensure fair and equitable treatment for all students while balancing that against the needs and rights of a microscopically small minority, complete strangers take to the pages of the Buffalo News and excrete words that promote division, hatred, and discrimination.
It's the Christmas season – the holiday season, really, if you think that Jews, Muslims, and people who celebrate Kwanzaa count. I would hope that cour community could do a better job of celebrating peace on Earth and goodwill to all people than by transmitting nonsense such as that reproduced above.