Valenti's: An End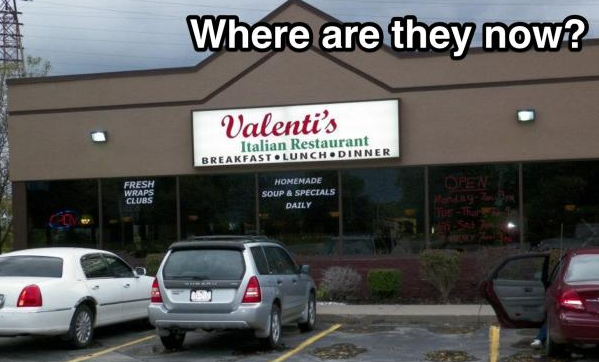 Longtime readers may recall in that in late 2011 / early 2012, I had a habit of mocking Janice Okun's Buffalo News restaurant reviews. One of them – her review of nondescript red sauce joint, "Valenti's" took on a life of its own.
Valenti's was located in the Budwey plaza in North Tonawanda – there's a Mighty Taco there now. Owned by Terry Valenti and his then-wife Lori Brocuglio Valenti, the couple's marketing strategy was an odd one. They hired the late Brian Kahle to do their initial promotions, and the Valentis made up a story about Terry having defeated legendary celebrity chef Bobby Flay in an episode of "Iron Chef America".  According to this fake tale, the secret ingredients was parsnips, and Terry won the competition with his parsnips-based ice cream. In the press release, it said that the ice cream wowed the judges, and Lori added, "it was the parsnips that did it." For the many people who followed the twists and turns that story took, that quip became the punch line to the whole sordid tale.
Here is the first post I did, mocking Okun's review and pointing out that the Iron Chef story was a lie. Valenti had also claimed to be a graduate of the prestigious Culinary Institute of America, and a former chef at Mamma Leone's –  both of these were easily determined to be lies. By the following day, the Buffalo News had quickly edited its review. The comment threads in those posts became a community for people who had axes to grind against the Valentis. By mid-January, they had stopped paying the rent on the restaurant and landlord Frank Budwey was suing to evict. By the end of the month, the restaurant's purveyor had cut off their credit, and the utilities were shut off. By February 1st, a North Tonawanda judge effectively put an end to the restaurant.
But there was more. The restaurant had set up its phone service in the name of a dead woman, and during the court hearing for the eviction, Terry Valenti was arrested on an outstanding Texas warrant for forgery, and ultimately extradited. Freedom of Information requests found myriad police calls to the Valentis' Eden home, and to the restaurant itself. In order to get credit, the Valentis made West Seneca native Melissa Janiszewski a "partner", but in reality they committed a clumsy form of identity theft, using Janiszewski's good credit to run up debt and then not pay it back. They went so far as to put their home cable account in Janiszewski's name.
This past weekend, I received a note from one of the dedicated commenters from the Valenti's threads. Outside Dallas, a man bludgeoned his girlfriend to death and called 911 as he committed the murder. When police arrived, he charged them with weapons and the police shot and killed him. The girlfriend was Lori Brocuglio Valenti, and she was murdered by her boyfriend, Kevin Close. Apparently, the Valentis had split up earlier this year.
Terry Valenti told the Dallas Morning News that Close may have killed Lori because they were in the process of reconciling. That doesn't seem to be true, according to follow-ups to the story. Lori had posted this to her Facebook page just last week: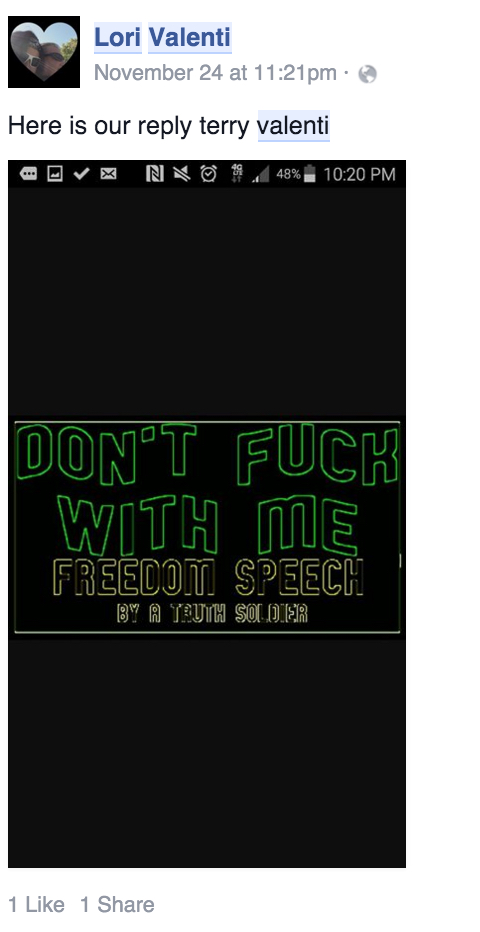 Valenti and his wife didn't leave western New York cleanly. By late February 2012, former commercial Frank Budwey had regained possession of the property, and had contracted with Cash Auctions to sell off the contents of Valenti's Restaurant. In April 2012, a Midland County Texas grand jury indicted Valenti on a forgery charge. Interestingly, around that same time, there was a rumor that Valenti was back in western New York, looking to start up a new restaurant on Delaware Avenue, and was supposedly trying to recruit people who had worked for him in North Tonawanda.  This turned out never to have materialized, thankfully.
By late June 2012, the Texas charges against Valenti were still pending, and he was appearing there in person with counsel. Meanwhile, in Florida, Valenti's ex-wife initiated a court action seeking physical custody of their son. Lori Brocuglio's ex-husband in Florida had custody of their son, and an action was brought to allow his new wife to adopt. Brocuglio contested the adoption, but the court instructed her that she needed physically to appear in court to testify – the problem is that there were a couple of minor warrants out for Ms. Brocuglio in that state, rendering her appearance a tricky proposition, at best. In June 2013, Broculgio was acquitted on a charge of grand larceny based on a complaint  brought by Frank Budwey. Terry Valenti wasn't so lucky. He was convicted in Texas on the forgery charge, and the victim advises that the matter is up on appeal. robation, court costs, and restitution.
As for the adoption case involving Ms. Brocuglio, when process servers in New York attempted to serve papers on her, Valenti told them that she had moved back to Connecticut. This was quickly resolved – during the time that Mr. Valenti had to appear in Texas, they re-served papers in Eden knowing that the only person who would be home would be Ms. Brocuglio.  On July 29th, she was home, and she was served. Valenti and Brocuglio attempted to fight back.  Valenti sought a temporary restraining order against Valenti's ex-girlfriend, but failed to serve it in a way that could be enforced against a non-resident of New York. At best, it was a nullity; at worst, it was an attempt to intimidate the star witness in the Texas forgery trial. Nothing ever came of the TRO. Lori Brocuglio lost her parental rights as to the son in Florida in November on the grounds of abandonment. At last check, Terry Valenti's ex had physical custody of their son in New York, and he was deeply in arrears on child support.
The entire time they lived in western New York, Valenti and Brocuglio rented a living space in Eden. As you might expect, Valenti and Brocuglio ended up mistreating their landlords there, as well. They were forced to bring two eviction actions against them; the first time, they obtained an emergency rent assistance loan from Erie County, and the back rent was paid. By July 2012, the landlords were dealing primarily with Brocuglio, who indicated she was going to Texas. After the second eviction for non-payment, the judge gave Valenti and Brocuglio a week to show receipts that $3,000 was paid.  It hadn't been. Not only did Valenti and Brocuglio skip out on back rent, but they are alleged to have stolen or sold items belonging to the landlords that were stored on the property, such as an upright air compressor, a drill press, welders, and a John Deere tractor and trailer.  The house was left in a horrible state, filled with garbage and junk. They left moldy, rotten food in the refrigerator, moldy clothes in the washer, food and garbage in the dishwasher, 36 bags of garbage, six truckloads of garbage furniture, six very large televisions, and tons of clothes and belongings left behind. Among the treats Valenti and Brocuglio left behind was shut-off of all utilities for non-payment, including $800 for electric fees. Because the electric system ultimately needed to be changed, it took three months and thousands of dollars to do so and also to clean up the property.
Throughout all of this – right up to the present day – a very cohesive group of former strangers has formed, all with one thing in common – each one has been cheated or mistreated by Mr. Valenti, Ms. Brocuglio, or both. Through a bizarre set of internet comments and fora – all relating to a strange restaurant review in the Buffalo News – these people have developed a virtual support group to help each other find out where these two are, what they're up to, whom they might be taking advantage of, and to generally vent about the wrongs done to them at the hands of Iron Chef Parsnips and his henchwoman. There have been bankruptcies, lawsuits, criminal actions, threats, harassment, child custody actions, evictions – federal, state, and interstate civil and criminal litigation has arisen as a result of two apparent sociopaths riding roughshod through the country, leaving behind a trail of debt, lies, broken lives, and broken property. The Valenti / Brocuglio fact pattern could very easily be an essay question on a bar exam.
All of that being said, Lori Brocuglio didn't deserve to be murdered by a psychopath boyfriend. Terry Valenti, looking perhaps for some attention after a few years out of the limelight, told the Dallas papers he and Brocuglio had reconciled, but that appears to have been a lie.
Valenti posted this to Facebook just a few days before Brocuglio's murder: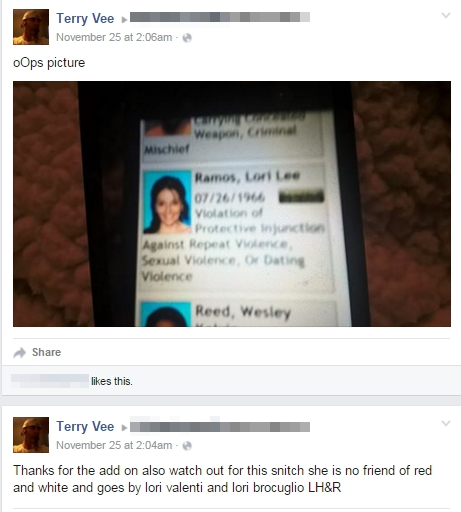 Red & White and "LH&R" (love, honor & respect) are commonly used to identify members of the Hells Angels. Valenti has claimed both to be a member – and to not be a member – depending on how it might best be convenient for him. I cannot fathom why he would try and pretend like he and Brocuglio were in the process of some reconciliation when that clearly appears to have not been true. I guess liars lie.
In the end, be nice to people. I don't know if either of these two characters ever learned that lesson, but one especially odd tale is now partly complete. I hope Ms. Brocuglio is in a better place, and that her family finds peace.