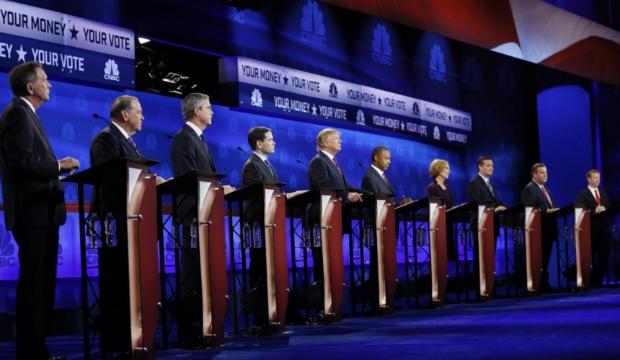 Funny @CNBC feels confident America knows all these faces and doesn't identify the candidates speaking.

— Tim Wenger (@TimWBEN) October 29, 2015
It is so clear the @CNBC moderators are going for a 'gotcha' moment in the debate and it's turning on them. @NewsRadio930 @MichaelRCaputo

— Tim Wenger (@TimWBEN) October 29, 2015
This is comical. @CNBC looks like a circus for how they are handling this debate. @NewsRadio930

— Tim Wenger (@TimWBEN) October 29, 2015
.@cnbc is a farce with this debate. Hats off to @ChrisChristie and @tedcruz for calling them out! @NewsRadio930 @MichaelRCaputo

— Tim Wenger (@TimWBEN) October 29, 2015
No clear winner in my estimation. But the biggest LOSER was @cnbc @NewsRadio930

— Tim Wenger (@TimWBEN) October 29, 2015
Tim Wenger, the "Operations Manager at Entercom Radio/Director of Content & Digital Strategy" posted that series of Tweets last night during the CNBC Republican Presidential debate. Wenger is an employee of a publicly traded Pennsylvania-based media conglomerate that owns over 125 radio stations in 27 markets. Each one of these stations exists pursuant to an FCC license and is subject to byzantine federal regulations. In Buffalo, Entercom owns WBEN, which is the top-rated news talk station in this market, and second overall only to the FM country music station. As one of the most listened-to radio stations in western New York, it is without a doubt a member of the "mainstream media".
Anyone whose voice is broadcast on WBEN – from Sean Hannity to Rush Limbaugh to Sandy Beach to Tom Bauerle on down – is part of the mainstream media. Likewise, Fox News Channel – a 24-hour cable news outlet owned as part of an Australian mogul's worldwide media empire, is also the "mainstream media". For the anemic ratings that these news channels get, Fox's are generally highest.
The Republican Party's decades-long descent from a reasonable governing coalition of conservatives and the center-right into an ultra right-wing nihilist activist movement could not have been sustained without an enemy; some vague "other" to embody and absorb all of the post-Goldwater conservative movements' hatreds and fears. Today, the Republican Party is a pitiful shadow of what it once was, right down to the lightly informed tea party tail wagging an impotent but noisy establishment dog.
Just about every revolutionary activist movement needs a scapegoat – some "other" to hate – and on CNBC Wednesday night, the "mainstream media", embodied by the three moderators you never heard of before and will never hear of again, fit the bill quite nicely. CNBC – a channel that caters to Wall Street types and day traders, which employs pretty hardcore wingers and generally promotes a viewpoint closely aligned with business executives and bankers. Indeed, repulsive reactionary Ted Cruz made news by defending his opponents against what he characterized as unfair questions lacking in substance. So did Chris Christie. Marco Rubio denounced the "mainstream media" as Hillary Clinton's most effective "PAC".
The audience cheered. The enemy – the liberal media – was getting its smack-down; its just desserts. You can see it in Mr. Wenger's excited series of Tweets – statements that must immediately end any further doubt about WBEN's palpable right-wing bias in not just talk and commentary, but also in news itself. If you come to the news party with your own bias hanging around your neck, it's downright comical to attack the bias of others.
In anticipation of some criticism of this column, note that it's labeled as "commentary". I am biased, and that bias is the very stock in which I trade. I adopt an opinion and back it up with facts. I don't generally do "news" or "reporting". Indeed, although I'm liberal, I'm not a member of the "mainstream media". Almost all of my material appears only online, under the umbrella of an independent alternative startup newspaper.
I don't watch CNBC. It took me several minutes to even find it on my cable line-up. I have no idea who its hosts are, what its bias is, or why it was selected to host a debate of the likes of Ted Cruz and Dr. Ben Carson. But what made big news during and after the debate was the supposed unfairness of CNBC's questions. 
CNBC should be ashamed of how this debate was handled. #GOPDebate

— Reince Priebus (@Reince) October 29, 2015
What were those questions? Let's take a look at every single one.
The proceedings began with a typically corporate bullshit interview question, directed to all of the candidates:
What is your biggest weakness and what are you doing to address it?
Questions to Donald Trump
Mr. Trump, you've done very well in this campaign so far by promising to build a wall and make another country pay for it, send 11 million people out of the country. Cut taxes $10 trillion without increasing the deficit, and make Americans better off because your greatness would replace the stupidity and incompetence of others. Let's be honest, is this a comic book version of a presidential campaign?
after some back-and-forth,
I gotta ask you, you talked about your tax plan. You say that it would not increase the deficit because you cut taxes $10 trillion in the economy would take off like…the economy would take off like a rocket ship. I talked to economic advisers who have served presidents of both parties. They said that you have as chance of cutting taxes that much without increasing the deficit as you would of flying away from that podium by flapping your arms.
Later on in the program,
Mr. Trump, let's talk a little bit about bankruptcies. Your Atlantic City casinos filed for bankruptcy four times. In fact, Fitch, the ratings agency, even said that they were serial filers for all of this. You said that you did great with Atlantic City, and you did. But some of the individuals — the bondholders, some of the contractors who worked for you, didn't fare so well. Bankruptcy is a broken promise. Why should the voters believe the promises that you're telling them right now?
In round 3, after a similar question to Senator Rubio,
Mr. Trump, let's stay on this issue of immigration. You have been very critical of Mark Zuckerberg of Facebook who has wanted to increase the number of these H1Bs.
Trump denied this, yet it's on his website. This came up later,
Mr. Trump, I want to go back to an issue that we were talking about before, the H-1B visas. I found where I read that before. It was from the donaldjtrump.com website and it says — it says that again, Mark Zuckerburg's personal senator, Marco Rubio has a bill to triple H-1Bs that would decimate women and minorities. Are you in favor of H-1Bs or are you opposed to them?
Another question shortly thereafter,
Mr. Trump, you've said you have a special permit to carry a gun in New York. After the Oregon mass shooting on October 1st, you said, "By the way, it was a gun-free zone. If you had a couple of teachers with guns, you would have been a hell of a lot better off." Would you feel more comfortable if your employees brought guns to work?
After saying he would, and saying that, "gun-free zones are a catastrophe. They're a feeding frenzy for sick people.", Trump was asked, 
We called a few Trump resorts, a few Trump properties that — that do not allow guns with or without a permit. Would you change those policies?
Later on, and this question was also directed somewhat awkwardly to Jeb Bush,
Mr. Trump says that he is capable of growing the economy so much that Social Security and Medicare don't have to be touched. Do you want to explain how that is going to happen, Mr. Trump?
Perhaps a record, perhaps an indication of his character, Trump lied about Zuckerberg and visas, and he lied about his campaign's funding. Trump also simply made up his statements about gun free zones being targets for "sickos". 
Questions to Ben Carson
Dr. Carson, let's talk about taxes. You have a flat tax plan of 10 percent flat taxes, and — I've looked at it — and this is something that is very appealing to a lot of voters, but I've had a really tough time trying to make the math work on this. If you were to took a 10 percent tax, with the numbers right now in total personal income, you're gonna come in with bring in $1.5 trillion. That is less than half of what we bring in right now. And by the way, it's gonna leave us in a $2 trillion hole. So what analysis got you to the point where you think this will work?

CARSON: Well, first of all, I didn't say that the rate would be 10 percent. I used the tithing analogy.

QUICK: I — I understand that, but if you — if you look at the numbers you probably have to get to 28.

CARSON: The rate — the rate — the rate is gonna be much closer to 15 percent.

QUICK: 15 percent still leaves you with a $1.1 trillion hole.

CARSON: You also have to get rid of all the deductions and all the loopholes. You also have to some strategically cutting in several places.

Remember, we have 645 federal agencies and sub-agencies. Anybody who tells me that we need every penny and every one of those is in a fantasy world. So, also, we can stimulate the economy. That's gonna be the real growth engine. Stimulating the economy — because it's tethered down right now with so many regulations…

QUICK: You'd have to cut — you'd have to cut government about 40 percent to make it work with a $1.1 trillion hole.

CARSON: That's not true.

QUICK: That is true, I looked at the numbers.
Round 2 to Carson:
Dr. Carson, in recent weeks, a number of pharmaceutical companies has been accused of profiteering, for dramatically raising the prices of life-saving drugs. You have spent a lifetime in medicine. Have these companies gone too far? Should the government be involved in controlling some of these price increases?
Round 3 to Carson,
Dr. Carson, we know you as a physician, but we wanted to ask you about your involvement on some corporate boards, including Costco's. Last year, a marketing study called the warehouse retailer the number one gay-friendly brand in America, partly because of its domestic partner benefits. Why would you serve on a company whose policies seem to run counter to your views on homosexuality?
After denouncing same-sex marriage and claiming to not be a homophobe, Carson was asked,
One more question. This is a company called Mannatech, a maker of nutritional supplements, with which you had a 10-year relationship. They offered claims that they could cure autism, cancer, they paid $7 million to settle a deceptive marketing lawsuit in Texas, and yet you're involvement continued. Why?
Carson complained that this was propaganda, and although he likes and takes the product, he claimed to have no "involvement" with Mannatech.
QUINTANILLA: To be fair, you were on the homepage of their website with the logo over your shoulder —

CARSON: If somebody put me on their homepage, they did it without my permission.

QUINTANILLA: Does that not speak to your vetting process or judgment in any way?
From Rick Santelli,
Dr. Carson, you told The Des Moines Register that you don't like government subsidies, it interferes with the free market. But you've also said that you're in favor of taking oil subsidies and putting them towards ethanol processing. Isn't that just swapping one subsidy for another, Doctor?
Later on, during a back-and-forth about Medicare,
You've said that you would like to replace Medicare with a system of individual family savings accounts, so that families could cover their own expenses. Obviously, that would be a very controversial idea. Explain how that would work, exactly.
Carson lied about being a seller and endorser of snake-oil. The conservative National Review called it a "bold-faced" lie. Carson is just another GOP grifter.
Questions to John Kasich:
That is, you had some very strong words to say yesterday about what's happening in your party and what you're hearing from the two gentlemen we've just heard from. Would you repeat it?
and
Well, let's just get more pointed about it. You said yesterday that you were hearing proposals that were just crazy from your colleagues. Who were you talking about?
Later on,
You've called for abolishing the Export Import Bank, which provides subsidies to help American companies compete with overseas competitors. You call that corporate welfare. One of the largest newspapers in your state wrote an editorial, said they found that strange, writing, that if that's corporate welfare, what does Kasich call the millions of dollars in financial incentives doled out to attract or retain jobs by his development effort — jobs Ohio. If subsidies are good enough for Ohio companies, why aren't they good enough for companies trying to compete overseas?
And,
Governor Kasich, let's talk about marijuana. We're broadcasting from Colorado which has seen $150 million in new revenue for the state since legalizing last year. Governor Hickenlooper is not a big fan of legalization, but he's said the people who used to be smoking it are still smoking it, they're just now paying taxes. Given the budget pressures in Ohio, and other states, is this a revenue stream you'd like to have?
Later on,
Most people can't get a college degree without going into debt. Over 40 million Americans have student loans and many of them cannot pay them back. This country has over $100 billion in student loan defaults. That's billion with a b. What will you do to make sure that students, their families, taxpayers, won't feel the economic impact of this burden for generations?
Questions to Sen. Marco Rubio:
You've been a young man in a hurry ever since you won your first election in your 20s. You've had a big accomplishment in the Senate, an immigration bill providing a path to citizenship the conservatives in your party hate, and even you don't support anymore. Now, you're skipping more votes than any senator to run for president. Why not slow down, get a few more things done first or least finish what you start?
Then
So when the Sun-Sentinel says Rubio should resign, not rip us off, when they say Floridians sent you to Washington to do a job, when they say you act like you hate your job, do you?
In round 2,
Senator Rubio, you yourself have said that you've had issues. You have a lack of bookkeeping skills. You accidentally inter-mingled campaign money with your personal money. You faced (ph) foreclosure on a second home that you bought. And just last year, you liquidated a $68,000 retirement fund. That's something that cost you thousands of dollars in taxes and penalties. In terms of all of that, it raises the question whether you have the maturity and wisdom to lead this $17 trillion economy. What do you say?
Rubio attacked the question and Democrats before adding how he didn't inherit his wealth, leading to a follow-up:
Senator, I understand all of that. I had a lot of student loans when I got out, too. But you've had a windfall that a lot of Americans haven't. You made over a million dollars on a book deal, and some of these problems came after that…but you liquidated that retirement account after the fact, and that cost you about $24,000 out of that in taxes and feed. That — that was after you'd already come into that windfall. That's why I raised the question.
Round 3, 
Senator Rubio, Wired magazine recently carried the heading, "Marco Rubio wants to be the tech industry's savior." It noted your support for dramatically increasing immigration visas called H1B, which are designed for workers with the special skills that Silicon Valley wants. But your Senate colleague, Jeff Sessions of Alabama, says in reality, the tech industry uses this program to undercut hiring and wages for highly qualified Americans. Why is he wrong?
Later on,
The Tax Foundation, which was alluded to earlier, scored your tax plan and concluded that you give nearly twice as much of a gain in after-tax income to the top 1 percent as to people in the middle of the income scale. Since you're the champion of Americans living paycheck-to- paycheck, don't you have that backward?
Rubio lied about what the Tax Foundation said about his tax plan – that it would benefit the top 1% twice as much as it would the middle class.
Questions to Jeb Bush:
…it's a question about why you're having difficulty. I want to ask you in this context. Ben Bernanke, who was appointed Fed chairman by your brother, recently wrote a book in which he said he no longer considers himself a Republican because the Republican Party has given in to know- nothingism. Is that why you're having a difficult time in this race?
In round 2,
Governor Bush, in a debate like this four years ago, every Republican running for president pledged to oppose a budget deal containing any tax increase even if it had spending cuts ten times as large. A few months later, you told Congress, put me in, coach, you said you would take that deal. Still feel that way?
Later on,
Governor Bush, the tax reform bill that Ronald Reagan signed in 1986 cut the top personal income tax rate to 28 percent — just like your plan does. But President Reagan taxed capital gains at the same rate, while you would tax them at just 20 percent. Given the problems we've been discussing, growing gap between rich and poor, why would you tax labor at a higher rate than income from investments?
Later still,
Governor Bush, daily fantasy sports has become a phenomenon in this country, will award billions of dollars in prize money this year. But to play you have to assess your odds, put money at risk, wait for an outcome that's out of your control. Isn't that the definition of gambling, and should the Federal Government treat it as such?
Questions to Carly Fiorina:
You are running for president of the United States because of your record running Hewlett-Packard. But the stock market is usually a fair indicator of the performance of a CEO, and the market was not kind to you. Someone who invested a dollar in your company the day you took office had lost half of the dollar by the day you left. Obviously, you've talked in the past about what a difficult time it was for technology companies, but anybody who was following the market knows that your stock was a much worse performer, if you looked at your competitors, if you looked at the overall market. I just wonder, in terms of all of that — you know, we look back, your board fired you. I just wondered why you think we should hire you now.
When Fiorina brought up how the guy who fired her, Tom Perkins, now supports her candidacy, this question:
[Mr. Perkins] said a lot of very questionable things. Last year, in an interview, he said that he thinks wealthy people should get more votes than poor people. I think his quote was that, "if you pay zero dollars in taxes, you should get zero votes. If you pay a million dollars, you should get a million votes." Is this the type of person you want defending you?
Later on,
in 2010, while running for Senate in … California, you called an Internet sales tax a bad idea. Traditional brick and mortar stores obviously disagree. Now that the Internet shopping playing field has matured, what would be a fair plan to even that playing field?
Some time later,
Mrs. Fiorina, you were the CEO of a large corporation that offers a 401(k) to its employees. But more than half of American have no access to an employer sponsored retirement plan. That includes the workers at small businesses, and the growing ranks of Uber drivers and other part-timers in the freelance economy. Should the Federal Government play a larger role in helping to set up retirement plans for these workers?
Fiorina's answers are fact-checked here, and the one about women losing jobs under Obama is "mostly false".
Questions to Sen. Ted Cruz:
This is the question that led to his anti-media rant:
Congressional Republicans, Democrats and the White House are about to strike a compromise that would raise the debt limit, prevent a government shutdown and calm financial markets that fear of — another Washington-created crisis is on the way. Does your opposition to it show that you're not the kind of problem-solver American voters want?
Cruz's rant read as follows:
You know, let me say something at the outset. The questions that have been asked so far in this debate illustrate why the American people don't trust the media. This is not a cage match. And, you look at the questions — "Donald Trump, are you a comic-book villain?" "Ben Carson, can you do math?" "John Kasich, will you insult two people over here?" "Marco Rubio, why don't you resign?" "Jeb Bush, why have your numbers fallen? How about talking about the substantive issues the people care about?
After that, the moderator reacted, "OK. (inaudible) I asked you about the debt limit and I got no answer." Cruz tried to answer,  but he had, "used [his] time on something else," including a quip insulting the Democratic candidates as presenting a choice between "Bolsheviks" and Mensheviks".
Later, Cruz was asked,
Senator Cruz, working women in this country still earn just 77 percent of what men earn. And I know that you've said you've been very sympathetic to our cause. But you've also you said that the Democrats' moves to try and change this are the political show votes. I just wonder what you would do as President to try and help in this cause?
Round 4, from Rick Santelli, the guy who coined the phrase "tea party" (the same question was also posed to Sen. Paul)
Senator Cruz, let's focus on our central bank, the Federal Reserve. You've been a fierce critic of the Fed, arguing for more transparency. Where do you want to take that?

Do you want to get Congress involved in monetary policy, or is it time to slap the Fed back and downsize them completely? What are your thoughts? What do you believe?
Ted Cruz lied about women earning less under Obama than before, incidentally. http://www.politifact.com/truth-o-meter/article/2015/oct/28/fact-checking-republican-cnbc-debate/
Questions to Sen. Rand Paul:
Senator Paul, the budget deal crafted by Speaker Boehner and passed by the House today makes cuts in entitlement programs, Medicare and Social Security disability, which are the very programs conservatives say need cutting to shrink government and solve our country's long-term budget deficit. Do you oppose that budget deal because it doesn't cut those programs enough?
When Paul complained about how Republican and Democratic compromise was really an "unholy alliance", he was asked,
Senator, if what you just said is true, why did Speaker Boehner craft this deal and why did Paul Ryan, who has a strong reputation for fiscal discipline, vote for it?
Later on,
Senator Paul, among the leading conservative opponents to the creation of Medicare back in the 1960s was Ronald Reagan. He warned that it would lead to socialism. Considering the mounting cost of Medicare, was he right to oppose it?
Questions to Gov. Chris Christie:
In your tell it like it is campaign, you've said a lot of tough things. You've said that we need to raise the retirement age for Social Security. You think that we need to cut benefits for people who make over $80,000 and eliminate them entirely for seniors who are making over $200,000. Governor Huckabee, who is here on the stage, has said that you and others who think this way are trying to rob seniors of the benefits that they've earned. It raises the question: When it is acceptable to break a social compact?
Round 2 to Christie,
Governor Christie, there has been a lot of political rhetoric that some bank executives should have gone to jail for the 2008 financial crisis. But General Motors paid more than $1 billion in fines and settlements for its ignition switch defect. One hundred and twenty- four people died as a result of these faulty switches. No one went to jail. As a former prosecutor, do you believe the people responsible for the switch and the cover-up belong behind bars?
Later on, after Christie complained about a question to Jeb Bush about fantasy football gambling,
Governor Christie, you've said something that many in your party do not believe, which is that climate change is undeniable, that human activity contributes to it, and you said, quote: "The question is, what do we do to deal with it?". So what do we do?
A quip Christie made about Senator Bernie Sanders was judged to be a "pants on fire" lie. Christie's claim about how there's a war on cops is also statistically false.
Questions to Mike Huckabee:
The first question came well into the program:
Governor Huckabee, you have railed against income inequality. You've said that some Wall Street executives should have gone to jail over the roles that they played during the financial crisis. Apart from your tax plan, are there specific steps you would require from corporate America to try and reduce the income inequality.
Later,
Governor Huckabee, you've written about the huge divide in values between middle America and the big coastal cities like New York and Los Angeles. As a preacher as well as a politician, you know that presidents need the moral authority to bring the entire country together. The leading Republican candidate, when you look at the average of national polls right now, is Donald Trump. When you look at him, do you see someone with the moral authority to unite the country?
Those are the questions that were asked. There were a few interruptions and candidate demands for time, but as far as actual questions from the debate moderators, the list above contains ever single one. Where the hell is the problem?
Let's break it down even further:
Trump, Carson, Rubio, Huckabee, and Bush were asked specific, pointed questions about their tax plans and how they would fix perceived problems. (Tax plans, incidentally, that Politico and Slate characterize as existing only in an "oddly imaginary" world, "insane", and  "an exercise in economic fantasy.")
Trump and Rubio were asked about immigration.
Trump, Carson, Paul, and Christie were asked about Social Security and/or Medicare.
Kasich was asked about the state of the GOP, marijuana, and student debt. Carson and Kasich were asked about corporate subsidies.
Trump was asked about his companies' bankruptcies, and the second amendment.
Carson was asked about a sketchy business relationship.
Rubio was asked about his relative youth and inexperience, and also about his business savvy.
Bush, Fiorina, Cruz, and Paul were asked about budget policy and the debt ceiling.
Bush was asked about the recent controversy over fantasy sports leagues.
Fiorina was asked about private retirement savings accounts.
Cruz was asked about equal pay for women.
Paul and Cruz were asked about the Federal Reserve and monetary policy.
Christie was asked about climate change and holding corporations accountable.
Huckabee was asked about values.
These questions were direct and almost completely substantive in nature. Given that CNBC is a business channel, many of the questions dealt with issues surrounding money – taxes, the Fed, subsidies, trade, and immigration. A few questions were outliers, like pot for Kasich and gambling for Bush, but for the most part, when you read the text of the questions alone, they're all dealing with important issues that matter – if not to you, then at least to the people who watch CNBC.
What you're missing here is the emotion. You're missing the whining and complaining about the perceived hostile tone of the questions or the questioners.
That's what happens when the GOP slate leaves the friendly and compliant bubble of the conservative media's Bullshit Mountain, and find themselves confronted with substantive, challenging, probing questions. In the end, the whole things came out a bit of a mess, but the best way for the denizens of Bullshit Mountain to deal with the glare of reality is to simply attack the media. Their acolytes love it, because they, too, hate the liberal media!
Asking candidates about how their tax plans would work is "gotcha journalism"? Well, congratulations to us, since it would appear we've come a long way since "what newspapers and magazines do you read" was considered a "gotcha" moment. Immigration? Budget policy?
And all of these characters whining about media bias and a lack of substantive gravitas in the questioning – what sorts of important issues do they tackle up on Bullshit Mountain every day? The republic endured years' worth of Orly Taitz / Donald Trump – style birtherism, but asking pointed questions about policy to Presidential candidates denotes elite liberal media bias? From Drudge to Limbaugh to Fox to AM radio on down, the right-wing movement and its activists have turned politics into a blood sport where trivial nonsense uttered by a member of the right-wing club is treated as something very important, but genuine issues affecting average Americans are denounced as gravitas-free evidence of journalistic prejudice.
These are the people who brought you "Planned Parenthood sells fetus parts", or "President Obama is a Kenyan usurper", or "the war on Christmas", or "Saddam Hussein is actively manufacturing weapons or mass destruction", or "Obama's coming for your guns", or "Obama won't say the word 'terrorism'", or "Climategate", or Michele Obama's "Whitey Tape", or "net neutrality is a government takeover of the internet". They have the chutzpah to condemn CNBC after years of lies, mythology, and faith-based economics. To characterize what the Republican media do as lowest common denominator rumormongering would be insulting to math.
Last week, former Secretary of State Hillary Clinton gave 11 hours of testimony before a mostly hostile Congressional Committee purporting to investigate the attack on our consulate in Benghazi, Libya in 2012. It was Mrs. Clinton's second time testifying about this event. 11 hours of blistering insults and allegations from preening backbenchers, including an odd obsession with Mrs. Clinton's exchanges with friends via email. 11 hours of Clinton's relationship with Sidney Blumenthal, but ask Ted Cruz one question about the debt ceiling, and he crumbles into a self-righteous temper tantrum.
As for the supposed love-fest that the Democrats got at their debate, let's consider for a moment the very first question posed, to Hillary Clinton:
Secretary Clinton, I want to start with you. Plenty of politicians evolve on issues, but even some Democrats believe you change your positions based on political expediency.

You were against same-sex marriage.  Now you're for it.  You defended President Obama's immigration policies.  Now you say they're too harsh.  You supported his trade deal dozen of times.  You even called it the "gold standard".  Now, suddenly, last week, you're against it.

Will you say anything to get elected?
If CNBC had asked a similar question of any of the weak-kneed, whiny, professional victims on stage in Boulder Wednesday night, the Republican National Committee would have aborted the entire program early.
If the Benghazi hearing was an 11-hour Republican paid advertisement for the Clinton campaign, then every one of these GOP debates – and the accompanying whinging – also have to amount to an in-kind contribution to the Democratic Party.