No Accountability and the Dictatorship of the Bureaucracy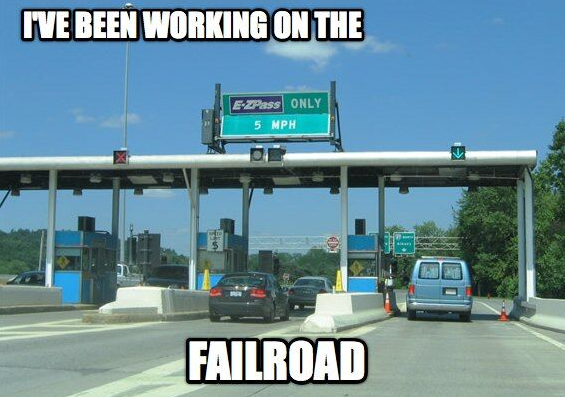 The reason why the Thruway Authority will never, ever change the toll plazas in Williamsville and Lackawanna has to do with the fact that western New York is a nonentity. No one from Albany needs to pass through here on their way to Erie, and so it doesn't really matter all that much whether you're sitting in unnecessary traffic at Ripley, Lackawanna, or Williamsville on the I-90.
It's 2013 and completely unacceptable that we haven't made use of the not-very-advanced technology that is available to permit EZ-Pass holders fly by the toll plaza at highway speeds. No EZ-Pass, you can pay cash at a booth located off the main road, like they do in Florida.
The Thruway Authority is, actually, considering changing over to an all-electronic toll collection system, but only on the busiest part of the road, between Yonkers and Harriman. In other words, on the stretch of road Assembly members and Senators living in the New York City area take to get to work in Albany.
A report in the Clarence Bee (paywall) reveals that a meeting was held last week with local elected officials whereby the Thruway Authority made all the arguments for moving the Williamsville Plaza back east, past the Transit exit, relieving some of the traffic congestion on Main Street in Williamsville and other surface roads. But they refuse to do it.
The Thruway had originally slated $14 million to reconfigure and/or move the tolls, but now they've only got $6.5 million on the table. They acknowledged that there was not a lot of space available to reconfigure Williamsville the right way, but they were going to try anyway; they were going to go into it half-assed.
While officials from Williamsville, Lancaster, and Clarence pleaded with the Thruway to consider moving the plaza back to Pembroke, the Thruway Authority simply isn't going to do it, and is talking about using electronic toll taking in a location that is already a bottleneck.
The Thruway Authority, of course, answers to nobody. If you complain, they don't lose their contract or franchise to run the road. They run independently from the executive or legislative branches, which answer to the public through periodic elections. It has its own bureaucracy and budget, operating as a quasi-independent state-sanctioned entity, and if you don't like queueing up at a too-small toll plaza using antiquated technology, well you can just go to hell and sit and like it.
Thruway employees get free EZ-Pass, so they don't care. The Governor jets in and out of here, so he doesn't care. Our local Assembly members and Senators are the ones who should be making the most noise about Thruway dysfunction, since they have to use the road to get to work, but instead we have Brian Higgins – a federal representative – calling for at least a toll-free stretch between Transit and Williamsville.
There is no accountability, so there is no motivation or impetus to improve service to Thruway consumers. It is more evidence of the dictatorship of the bureaucracy under which we live in New York.