Heckuva Job, Humanity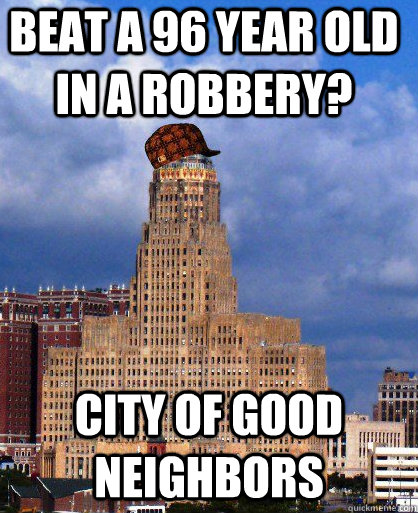 1. Just after 9:00 am yesterday, a 24-year old woman was driving her SUV while drunk. She crossed the center line and plowed her SUV into a Pontiac sedan driven by a 31 year-old mother. The impact split the sedan in two, critically injuring the driver and killing her beautiful 7-month old baby, Baylee Marie Dion. 
How many more lives need to be destroyed before selfish, reckless assholes decide that it's a bad idea to get behind the wheel when they're drunk? How many more babies need to be homicide victims before some people get it through their thick idiot heads that maybe you don't get drunk when you have to drive somewhere. The woman who killed Baylee was stopped for DWI in 2009. Our society glamorizes going out and getting hammered. Hooray us. 
2. During the course of a home invasion burglary on Buffalo's east side, the 3 thugs beat the 96 year-old victim. I mean, you're already violating his property, why not violate his personal safety, right?  To top it off, civic leaders responding to the horrific beating had to put out a call for area residents to set aside the general rule of "no snitching".
I'm sure that the elderly resident was just jumping up to physically threaten three young men, right? The beating was totally necessary in furtherance of collecting a few tchotchkes, right? Happy Holidays!
3. A mother in Niagara Falls left her 2 year-old and the child's father in the car while she ran into the store to get something. As she shopped, a drive-by shooting happened to erupt outside, and a bullet hit the child in the face. People are now discussing whether the 2 year-old was the intended victim. Perhaps someone will come forward in the Falls to provide law enforcement with some information.
Niagara Falls is the place where nothing good ever happens, it seems. Gynophobic newspaper editors, a city that gave up a swath of downtown to a casino that isn't paying its debts, streets paved with depleted uranium, no jobs, vast poverty, dysfunctional government, waste, fraud, and corruption. 'Tis the Season!
If anyone can photoshop the scumbag Steve hat onto a picture of a Buffalo, I'd love that. Thanks.  Thanks to Tom Dolina for assisting with the "Scumbag Buffalo" meme.